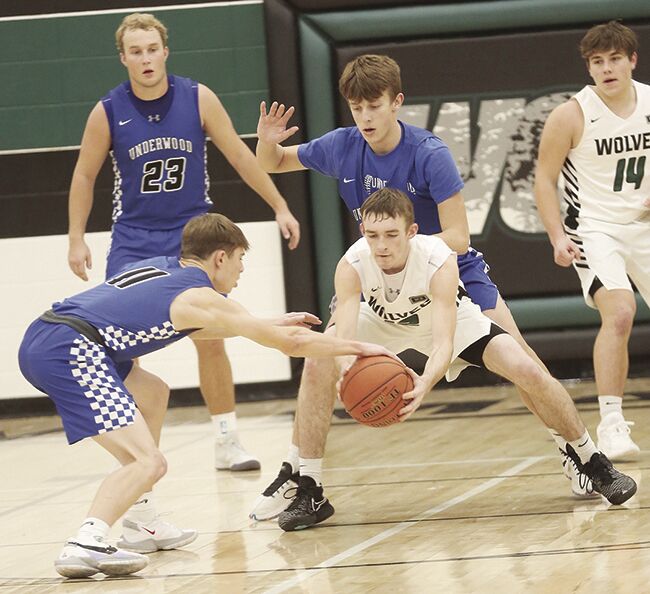 IKM-Manning and Underwood split a pair of Western Iowa Conference basketball games on Thursday night at Manning.
In the opener, the IKM-Manning girls shot just 19 percent from the field in a 64-35 loss on their home court.
The nightcap was a low-scoring affair, as Keith Wagner's IKM-Manning club rallied for a 38-36 victory over the visiting Eagles.
IKM-Manning found it rough going on the offensive end Thursday night, as the Wolves fell to 2-4 in the WIC and 2-6 overall after a 29-point setback.
IKM-Manning fell behind 14-1 after the first quarter and went into halftime down 25-15.
The visiting Eagles then outscored the Wolves 39-20 in the second half to win going away, including 20-9 over the final eight minutes.
On the night, IKM-Manning was just 1-of-11 from three-point range and 8-of-42 overall from the field.
The Wolves also were 18-of-28 at the free throw line.
Alexa Ahrenholtz led IKM-Manning with 15 points to go with six rebounds before fouling out late in the fourth.
Taylor Ferneding added seven points, five boards, four steals and three assists in a nice all-around performance.
Nicole Hanson had five points, six boards and three assists. Bianca Cadwell finished with five points and four boards.
IKM-Manning's two-point win was the third victory in a row for the Wolves, which improved to 2-4 in WIC play and 3-5 overall.
Neither team founds its offensive groove after the first quarter, as Underwood led 18-17 after one quarter, 22-20 at halftime and 31-30 to start the fourth.
IKM-Manning rallied to take the lead for good at 37-36 with just over two minutes left on a basket by Kyler Rasmussen.
The Wolves still led by one when Luke Ramsey went to the free throw line with 2.2 seconds remaining.
He missed the foul shot, but the Wolves' Brody Swearingen pulled down the rebound and was fouled with only one second left on the clock.
Swearingen made his first free throw to make it 38-36.
He missed the second and an Underwood rebound resulted in a full-court heave that fell way short of the basket as the horn sounded.
Swearingen led his team with 12 points and nine boards.
Cooper Irlmeier added 10 points, two boards and two assists.
Rasmussen finished with eight points, six boards, two assists, two steals and a shot block in the contest.
Connor Keller had three points. Luke Ramsey also had three points and two boards, while Nolan Ramsey had two points and four boards for the Wolves.