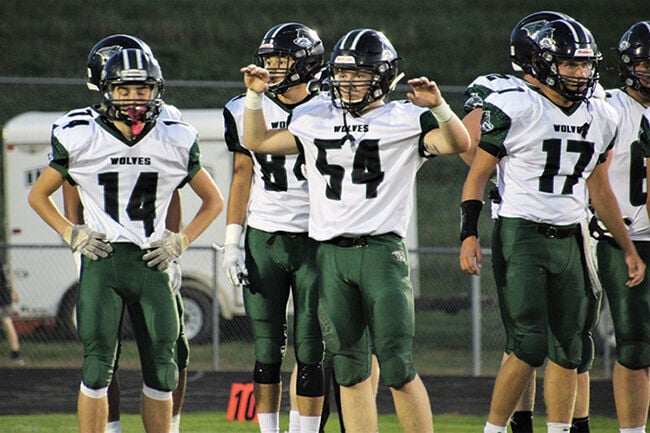 IKM-Manning rushed for a season-high 426 yards with six touchdowns on the ground, as the Wolves rolled to a 48-27 victory over Lawton-Bronson in Class A, District 8 football action on Friday night at Lawton.
The win was the third in four games for IKM-Manning, which improved to 4-2 in District 8 and 4-3 overall.
IKM-Manning finished with 459 total yards in all against the Eagles, which had 409 total yards with 133 rushing and 276 passing.
The Wolves outscored L-B 27-6 in the second quarter, as Cory McCarville's squad rallied from a 14-13 deficit early in the second to take a 27-13 lead at halftime.
L-B outscored IKM-Manning 14-7 in the third quarter to pull to within 34-27, but the Wolves then posted a 14-0 shutout in the fourth for the win.
Amos Rasmussen had an outstanding night in the rushing department for IKM-Manning, as the senior carried the ball 23 times for 306 yards with three touchdown runs of 75, 65 and 23 yards.
Cooper Irlmeier also ran the ball 26 times for 100 yards with TD runs of 3 yards and 1 yard.
IKM-Manning quarterback Nolan Ramsey added a 1-yard TD run and had a 22-yard scoring pass to Luke Ramsey as well.
Nolan Ramsey completed 3-of-10 passes for 33 yards with the one scoring pass in the game.
Luke Ramsey had the one catch for a 22-yard score, while Hunter Smith caught two passes for 11 yards.
For L-B, quarterback Brayden Williams tossed two TD throws of 30 yards and 71 yards, while also rushing for a 1-yard score.
Matt Peters also had an 80-yard TD run for the Eagles, which fumbled five times on the night and losing three.
Defensively for IKM-Manning, Luke Ramsey had 6.5 tackles, including four solos. Cooper Perdew also had 6.5 tackles (3 solo) with a fumble recovery and an interception to his credit.
Justin Segebart cashed in with five tackles (4 solo) and recovered two fumbles for the Wolves.
IKM-Manning will conclude its regular season this Friday night with a non-district matchup at Ogden.