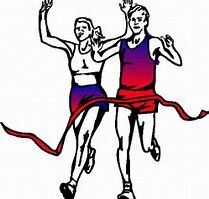 The Denison-Schleswig cross country teams were back in action on Monday at the Odebolt-Arthur/Battle Creek-Ida Grove Invitational at Ida Grove.
The D-S boys netted 111 points and finished second overall in the final team standings behind champion Siouxland Christian's 88 points.
On the girls' side, D-S tallied 257 points to take home 11th place overall.
Woodbury Central/Kingsley-Pierson won the team title for the girls with 50 points. Manson-Northwest Webster was runnerup with 74 points.
"Tonight was a great night to run. The weather was beautiful. The kids really pushed hard on this course," commented Denison-Schleswig coach Nick Bradley.
Adolfo Vargas led the D-S boys on Monday, as he placed seventh overall out of 170 runners in a time of 18 minutes, 31.10 seconds.
Eric Brannon of Siouxland Christian won the individual title in 17:09.30.
Leo Flores ran 13th for the Monarchs in 18:47.30.
He was followed by Ricky Ledesma (17th, 19:05.20), Esteban Castellanos (35th, 19:54.52), Ethan Perrien (39th, 20:07.38), Bradyn Schillerberg (56th, 20:39.55) and Chris Campos (66th, 20:53.95).
The D-S girls were led on Monday by Bella Araujo, who placed 27th overall out of 136 runners in 23:30.03.
Taking home the individual title was Manson-Northwest Webster's Maddie Moline in 19:43.68.
Elizabeth Cary ran 31st for the Monarchs in 23:43.98. Juliana Barajas finished 61st in 25:20.12.
She was followed by Olivia Gunderson (76th, 26:17.54), Kaily Cano (103rd, 28:21.89), Alison Fink (110, 29:10.62) and Jazmine Iglesias (122nd, 30:57.99).
76. Brian Ibarra, 21:14.35; 91. Reed Bowker, 21:43.24; 98. Alex Garcia, 21:59.27; 103. Kaiden Krajicek, 22:13.57; 108. Jason Castillo, 22:41.93; 138. Chris Ochoa, 24:54.64; 170. Tanner Gotto, 34:15.77
1. Lola Mendlik, 12:49.19; 5. Charlotte Schrum, 13:26.18; 19. Emily Bahnsen, 14:44.95; 40. Andrea Flores, 17:24.35; 48. Janet Castillo, 18:09.99 (58 runners)
8. Yohannes Brihane, 13:17.07; 29. Ethan Olsen, 15:09.96 (70 runners)
1. Siouxland Christian 88; 2. Denison-Schleswig 111; 3. Southeast Valley 119; 4. West Monona 143; 5. Sioux Central 152; 6. Manson-Northwest Webster 163; 7. Woodbine 181; 8. Pocahontas Area 199; 9. South Central Calhoun 201; 10. Odebolt-Arthur/BC-IG 237; 11. Lawton-Bronson 284; 12. Woodbury Central/Kingsley-Pierson 295; 13. East Sac County 346; 14. Boyer Valley 264; 15. Ridge View 365; 16. Alta-Aurelia 379; 17. Whiting 457
1. Woodbury Central/Kingsley-Pierson 50; 2. Manson-Northwest Webster 74; 3. South Central Calhoun 134; 4. Alta-Aurelia 136; 5. Sioux Central 164; 6. Ridge View 182; 7. Lawton-Bronson 193; 8. Exira/EH-K 208; 9. West Monona 241; 10. Pocahontas Area 255; 11. Denison-Schleswig 257; 12. East Sac County 281; 13. Southeast Valley 319; 14. Odebolt-Arthur/BC-IG 337; 15. Woodbine 344