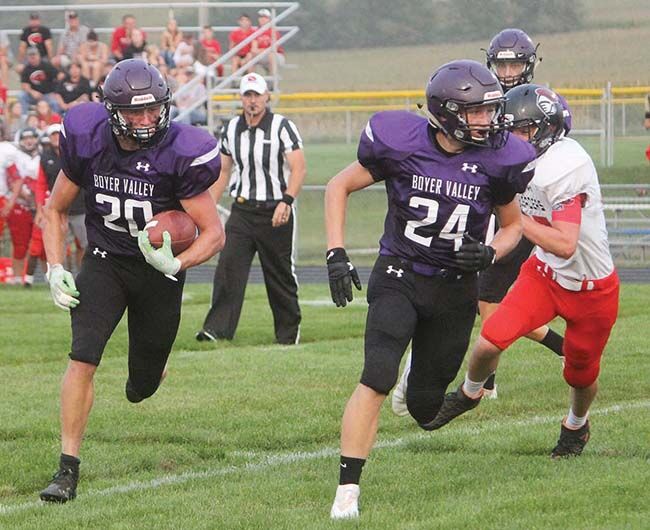 Boyer Valley as a team rushed for 508 yards and scored seven touchdowns on the ground in a 60-40 victory over Coon Rapids-Bayard in Eight-Man, District 10 football action on Friday night at Dunlap.
It was the home opener for BV, which improved to 1-1 in District 10 and 2-1 overall on the season.
Nate Christensen's BV club led by only two points at 36-34 going into the fourth quarter, but the Bulldogs outscored the Crusaders 24-6 over the final 12 minutes to win going away.
BV had a total of 537 offensive yards.
Senior Trevor Malone had a monster night running the ball for BV, as he carried 33 times for a whopping 371 yards with four rushing touchdowns to his credit.
He had a longest TD run of 56 yards.
BV quarterback Drew Volkmann also ran the ball 17 times for 114 yards with two rushing scores.
Through the air, Volkmann was 1-of-10 for 29 yards.
Robert Brasel also ran the ball three times for nine yards with one TD run on the night.
Jaidan Ten Eyck caught Volkmann's lone pass completion for 29 yards.
Defensively for BV, Carsan Wood led the Bulldogs with 11 tackles, including nine solos.
Brasel added 6.5 tackles with four solos.
Ben Lantz also recovered a fumble for the Bulldogs, which will be at home again this Friday night against West Harrison in District 10 play.
CR-B finished with 363 total yards, including 190 rushing and 173 passing.
Gabe Obert led CR-B with 90 yards rushing.