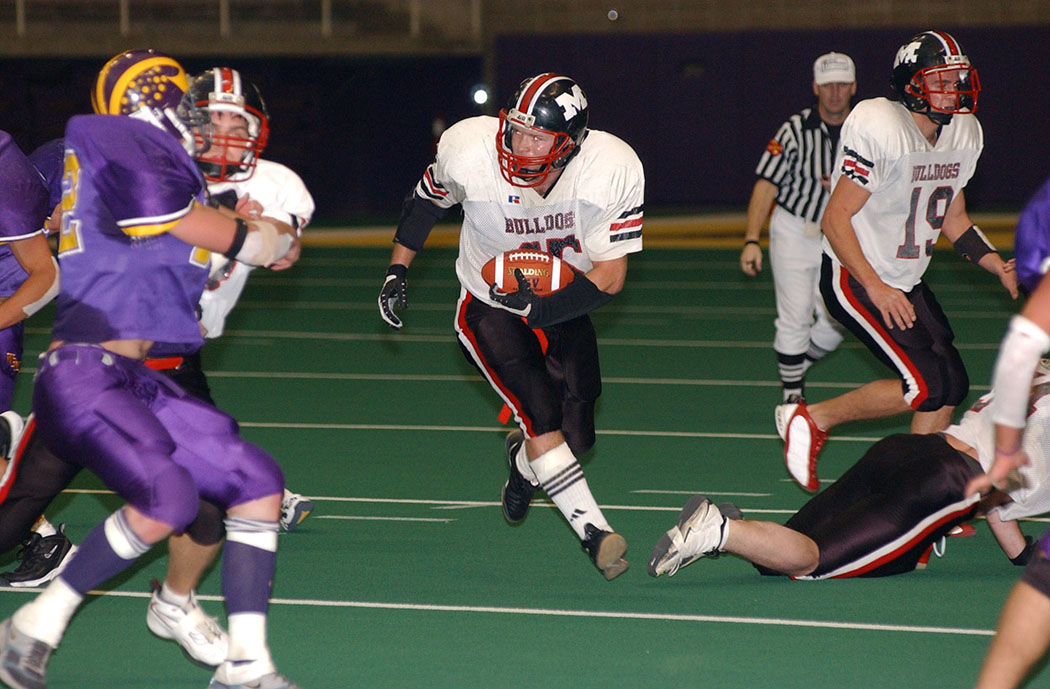 Manning High School had always been recognized for producing outstanding football teams.
That was definitely the case in the early 2000s, as Manning created a mini-dynasty with three consecutive trips to the UNI-Dome, capped off with a state championship in 2002 that forever changed the format of high school football in Iowa.
After an early playoff exit in 1999, Manning rebounded a year later and found itself in the Class A state championship game against Hubbard-Radcliffe, which shut out the Bulldogs by a 17-0 score.
Manning then reached the state semifinals in 2001, falling just short of a spot in the state title game for the second year in a row after a 7-6 loss to Clay Central-Everly, which wound up suffering a 21-12 loss to Fredericksburg in title matchup.
Manning led CC-E 7-6 late in the fourth quarter when CC-E tied the game with a touchdown and took the lead on a PAT kick with only 44 seconds left in the game.
A year later in 2002, Manning would not be denied, as the Bulldogs put together a dominating fall campaign that ended with Floyd Forman's club winning the school's first-ever state football title with a 52-0 shutout of Fredericksburg, the same Falcon team that won it all the year before.
The 2002 season didn't start out the way Manning wanted it to, as the Bulldogs were shut out 27-0 at home by District 1-rival Treynor in the team's opener.
That loss opened up a lot of eyes, according to Manning's coaches and players.
After that, the Bulldogs never blinked en route to winning the state championship.
Manning allowed only 55 points the rest of the season, outscoring its opponents 524-82 in all and winning 12 consecutive games after the opening loss to Treynor.
The Bulldogs scored 50 or more points in five of the final 12 games and posted six shutouts, including a lopsided 52-0 whitewash of Fredericksburg in the state championship game.
After an 8-1 regular season, Manning opened postseason play with a 55-14 victory over Madrid on Madrid's home field
The Bulldogs returned home five days later on November 11, hosting a quarterfinal game against the same Treynor team that beat them in the season opener at Manning.
With a spot in the state semifinals and a trip to the UNI-Dome on the line, Manning avenged the setback with a 17-6 triumph over the Cardinals, which entered that game unbeaten and ranked number one in the state in Class A.
Manning then took care of West Bend-Mallard by a 31-8 tally to reach the state title game for the second time in three years.
Back then, high school football games in Iowa were stopped when one team got ahead of the other by 50 or more points in the second half.
That's exactly what happened in the championship game between Manning and Fredericksburg, as the title game was stopped with four minutes, 28 seconds remaining in the fourth quarter.
It was the first time that a state championship game had been decided by the 50-point rule.
Needless to say, 50-point rule was abolished after the 2002 season.
"The loss to Treynor in our first game at home definitely was an eye opener. We went into the season with a lot of expectations and for us to be shut out like that didn't sit well with the coaches or players," commented Forman, who was starting his 22nd season as the school's head football coach that season.
"After that, we just simply dominated and really didn't have a close game the rest of the way," he added.
"The closest game we had was our rematch with Treynor in the playoffs and we avenged the loss at home. I remember they had to come to our place twice that year and were not very happy about it, but that's just how it went," Forman stated.
Forman was concerned about Fredericksburg's size advantage going into the state title game.
"Fredericksburg was the defending state champions and had an outstanding running back that nobody seemed to slow down that year," Forman said.
"Well, we did exactly that. After a scoreless first quarter, we just took off after that. Fredericksburg ran the double-wing offense, but we quickly got them away from that and forced them to pass the ball. They took a lot of chances on fourth down and we capitalized on field position."
"It was a fun game, but I don't think anybody expected it to be 52-0. The funny thing was that we had our second string in most of the second half and they couldn't stop us," Forman said.
"I remember thinking that I didn't want to embarrass the opposing coach, but we were just running simple dive plays we were blowing them out. I think it was our fullback John Lorenzen who scored on a run to end the game midway through the fourth," Forman remarked.
Meeting on the field after the game, Forman apologized to Fredericksburg head coach Steve Staker.
"I remember telling him that it wasn't my intention for the game to get out of hand like it did, but he wasn't upset about it at all. He just congratulated me and told me that we had the better football team," Forman said.
Forman stated that the 2002 team was just on a mission.
"We had an outstanding senior class. I know they were frustrated as sophomores to lose in the state title game. Then as juniors, they reached the semifinals and fell just short. That really motivated the guys and I think they made a promise that they were going to win it all as seniors. I really admired them for that," Forman said.
"We were fortunate in 2002. We had a lot of talent. They were really motivated and we stayed away from injuries. That was a major factor," noted Forman, who currently lives in West Lafayette, Indiana, with his wife, Donna.
Son Chris Forman, 45, is the sports information director at Purdue University in West Lafayette.
Floyd and Donna also have another son, Sean, 48.
Senior Nate Fara was under center at the quarterback position for Manning in the 2002 season.
Fara said the early-seson loss to Treynor got Manning back on track.
"That really opened our eyes. From that point on, though, we just never looked back and got on a roll," commented Fara.
Manning steamrolled its opponents after that, as Fara mentioned he didn't play too many full games after the initial loss to Treynor.
"We were pumped that we got a rematch with Treynor in the playoffs and we got them at home," Fara said.
"I think it was one of the most hyped games in western Iowa at the time, as fans from both teams were wrapped around the field. I remember the game just going back and forth for a long time before we took control in the second half. That was a big win to get the UNI-Dome," he added.
Fara had a lot of respect for Fredericksburg going into their matchup in the state title game.
"I remember watching them win the title in 2001," Fara said. "We really thought we were going to be in for a hard-fought battle, but after neither team scored in the first quarter, we were able to punch one in and that's all it took. We had all the momentum and just rode it."
Fara didn't expect a 52-0 shutout, though.
"I remember being on the sidelines and thinking this is just crazy, but we had a group of seniors who were determined to end their careers with a state championship," Fara said.
"We just grew up playing together, so the faces really never changed. We played a lot of sports together, but we all had a lot of interest in football and took it to heart."
"We put together quite a run in my four years, but the 2002 team was pretty special. It wasn't just the seniors, though, as a lot of underclassmen contributed as well," remarked Fara, who graduated from MHS in 2003 and Iowa State University in 2007 with a major in Ag Business.
Fara, 35, a grain division manager at FAC Cooperative, currently lives in Carroll with his wife, Keely, and two sons, Rhett, 5, and Wyatt, 4.
Josh Linde was Fara's senior teammate and played tight end on offense and linebacker defensively for Manning.
"Honestly, the one thing I really remember from that season was the loss to Treynor in our first game. I know that didn't set well with the guys," Linde said.
"We sort of turned things around after that," he added.
In the state title game against Fredericksburg, Linde remembers catching a pass from Fara that set up a touchdown.
"I remember we struggled in the first quarter to get anything going. Then after catching a pass from Fara, we scored right after that and the rest was history," Linde said.
Linde, who owns a family farm in western Iowa, said that it was the team's goal all along to win a state title.
"When I think about the 2002 team, I think about family. It wasn't just the goal for the seniors to win it all, but the juniors and sophomores wanted it just as bad. I could tell we were going to have something special that year just because of how hard everyone worked in the offseason," Linde stated.
Linde credited a lot of the team's success to Forman and assistant coach Jim Keegan.
"Not everyone gets an opportunity to play for coaches like that. They had so much chemistry after coaching together for so many years. They knew our strengths and weaknesses. We would have done anything for those two. It was just a great experience," Linde said.
Josh and wife, Jenny, have three children, two daughters, Olivia, 10, and Alexa, 7, and one son, Nolan, 4.
Statisticians come no better than Brian Lage.
Lage has walked the sidelines for 28 years charting statistics for the Manning and now IKM-Manning football teams.
Lage said that Manning's loss to Treynor in the 2002 season opener was all the motivation the team needed.
"After the loss, I don't think any of the kids smiled again until they won the state championship. They didn't want to hear a word. They were just on a mission," Lage said.
Lage noted that win over Madrid on Madrid's home field definitely sent a statement.
"Madrid did not want to play Manning. They had an outstanding running back at the time, but it didn't matter. We beat them a couple of times previously and we just beat them at their own game. Heck, I think we could have 50-pointed them, but Forman wasn't that way," Lage said.
Lage remembers the rematch with Treynor at Manning as a dogfight to the end.
"A lot of people thought that should have been the state championship. It was a great game. Our guys wanted to play them again and they stepped up big," Lage said.
Manning then knocked off a very good West Bend-Mallard team in the semifinals.
"I remember their coach Koy Goodchild trying everything he could to slow us down, but nothing seemed to work, as our guys just took control in the second half," Lage said.
Fredericksburg had no answer for Manning in the championship game, according to Lage.
"Neither team did much in the first quarter, but once we scored in the second quarter, we had all the momentum and it was history after that," Lage remarked.
Near the end of the title game, Lage handed Forman a little matchbox school bus that had Bulldogs Football State Champs 2002 inscribed on the side.
"They had just come out with that edition, so it was only fitting that I give one to Forman. It couldn't have worked out any better," stated Lage, who in return was handed the championship game ball by Forman after the Bulldogs' lopsided victory.
"The kids were determined to win the state title. They never celebrated much during the season and just took care of business after the loss to Treynor. It was a bunch of farm kids who had one goal in mind and nothing was going to stop them," Lage said.
Lage currently manages the Manning and Manilla Golf Course.