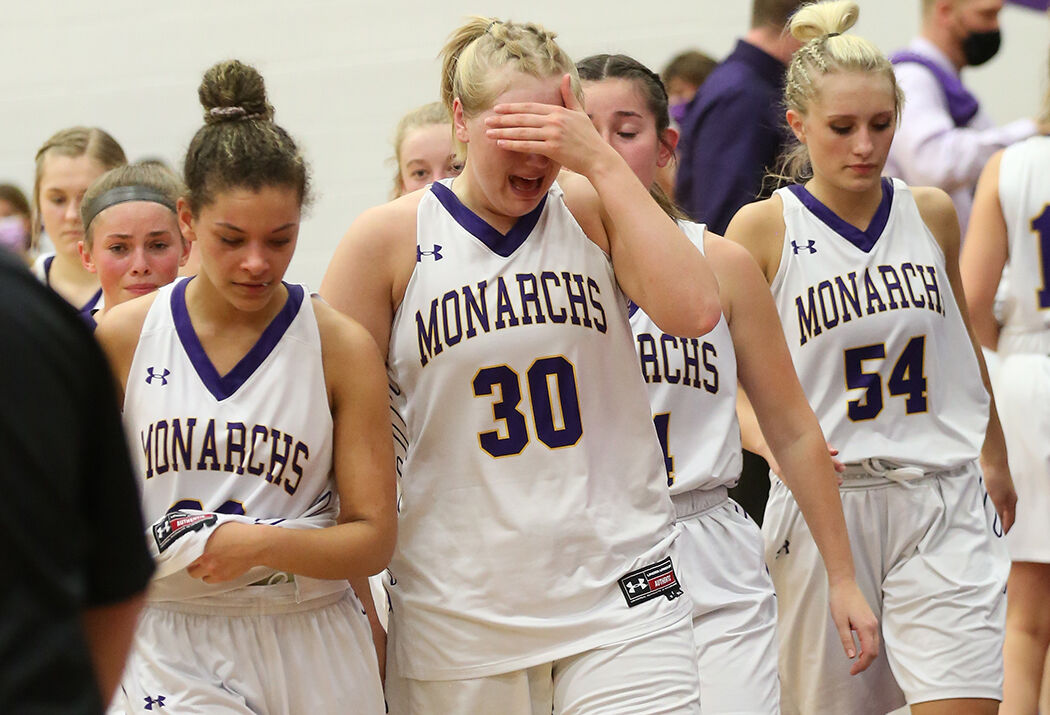 You hear it all the time.
Beating a team three times in one season is not an easy task.
That played out on Tuesday night, as Harlan avenged two regular season losses to Denison-Schleswig with a 52-43 victory over the Monarchs in the Class 4A, Region 8 championship game at Denison.
The loss ended the 2021 winter campaign for D-S at 18-5 overall under 13-year head coach Adam Mich, whose team had defeated Harlan 40-32 and 61-57 during the regular season.
With the win, Harlan improved to 17-5 overall and will head to the state tournament for the first time since 2016.
The ninth-ranked Cyclones earned the No. 7 seed and will take on second-rated and No. 2 seed Ballard of Huxley (21-1) in a 3 p.m. state quarterfinal game on Tuesday, March 2, at Wells Fargo Arena at Des Moines.
Like the previous two matchups, Tuesday's regional final game at Denison was tight throughout.
Harlan raced out to a 10-2 lead, but then an 11-2 run for D-S, capped off on a three-point basket by Cambri Brodersen, gave the Monarchs their first lead of the game at 13-12 early in the second quarter.
Harlan led 21-18 at halftime. A 14-10 scoring advantage for the Cyclones in the third quarter put the visitors up 35-28 going into the final eightminutes of play.
Leading by 10 at 43-33 with 3:12 left to play, Harlan took its biggest lead of the game of 11 points at 45-34 with 1:54 remaining.
D-S got the lead down to seven points at 47-40 with 1:07 left on two Hannah Neemann free throws, but the Monarchs got no closer, as Harlan was able to hit several critical free throws down the stretch for the win.
In fact, Harlan was 13-of-15 at the free throw line in the fourth quarter alone and 18-of-22 for the game.
Neither team shot the ball extremely well, as each squad finished at 34 percent from the floor.
D-S was 7-of-17 from three-point range and 13-of-38 overall, while Harlan was just 4-of-17 from behind the three-point arc and 15-of-44 overall.
The Monarchs were 10-of-14 at the free throw line.
What hurt D-S on Tuesday night was being outrebounded by a 28-23 margin and turning the ball over 22 times to Harlan's 15 violations.
"Yeah, the two areas that stand out were them outrebounding us and then turning the ball over an uncharacteristic 22 times," commented Mich.
"Heck, Harlan had 15 offensive rebounds that led to 14 second-chance points for them. We had been good on the boards all year, but Harlan did a great job of grabbing offensive boards and then finding a way to finish," he added.
"Second-chance points just killed us. It seemed like every time we made a run or got to within two or three points, Harlan would hit a three, pull down a rebound and score or we would turn the ball over."
"We obviously didn't play our best game, but if you would have told me before the game that we would hit more threes than Harlan, I would have liked our chances," noted Mich, whose squad was just 6-of-22 from the field in the second half.
"Defensively, we held their two best players in my mind in check with the Cheek (Jocelyn) and Schmitz (Claire) girls having only four and two points, respectively," Mich said.
Macie Leinen led Harlan with 17 points and Brecken Van Baale added 12 points for the Cyclones.
Van Baale was 6-of-7 at the free throw late, while Harlan reserve Raegan Wicks drained 7-of-8 foul shots in the fourth.
"For the most part tonight, everything went wrong for us and everything went right for Harlan and that happens. It's just frustrating, because we had what we wanted in playing at home for a chance to get to the state tournament. We just fell short of reaching our ultimate goal," Mich said.
Paige Andersen led D-S with 15 points (three, three-pointers) to go with four rebounds and two steals.
Ellie Magnuson chipped in with eight points, four assists, three boards and two steals.
Hannah Neemann, who battled through two early fouls, finished with six points, all in the second half, while contributing six boards and three assists.
Brodersen added four points, two boards and one steal. Kira Langenfeld also had four points.
Sophie Sonnichsen had three points and three boards. Hannah Slater netted two points, while Cierra Kastner wound up with one point, two boards and one assist.
Tuesday's game was the final high school contest for six D-S seniors in Andersen, Neemann, Magnuson, Cierra Kastner, Paige Kastner and Emma Mendenhall.
"Collectively, a great group of kids. They all had different roles on the team and they carried out those roles," Mich said.
"Andersen, Neemann and Magnuson played at the varsity level all four years playing in three regional finals and one state tournament, noted Mich, who has led D-S to seven regional final appearances in his 13 years on the bench.
Andersen and Neemann both were starters on the Monarchs' 2019 state-qualifying team in Class 4A.
Andersen finished her career with 1,122 points (fifth all-time) and 649 rebounds (second all-time), while Neemann had 976 points (sixth all-time) and 588 rebounds.
"It's crazy. Those two broke into the starting lineup as sophomores. As juniors, they had to step up and be leaders for the team," Mich said.
"Then this year, I thought both of them became more aggressive and better facilitators with the ball. When teams took them away, they found ways to get others involved. Both of them had special careers, but I thought all six seniors bought into their roles and were great leaders for our younger girls," the Monarch boss remarked.
Mich said it was hard to find the right words to say in the locker room following Tuesday's loss.
"You never know what to say. The biggest thing with this group is that they went from a 12-10 record a year ago to winning 18 games this season, tying for second place in the Hawkeye 10 and playing in a regional final," Mich said.