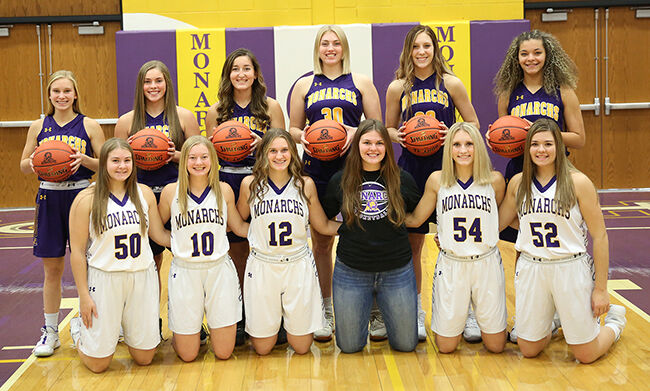 The Denison-Schleswig girls have all sights on contending for the Hawkeye 10 Conference basketball title with the 2020-21 season right around the corner.
Expectations are high due to the fact that the Monarchs return eight letterwinners, including three full-time starters and two other girls who started 10-plus games a year ago.
D-S will be under the direction of veteran head coach Adam Mich, who begins his 13th year at the helm with an overall record of 159-114.
A year ago, D-S tied for fourth in the Hawkeye 10 at 6-4 and finished 12-10 overall with Mich, who will be joined on the bench by eighth-year assistant coach Adam Burns and first-year coach Nate Pardun, who takes over the Monarch freshmen girls.
"The eight letterwinners are the most I've ever had back. They accounted for 92 percent of our points scored last season," Mich said.
"We are really far ahead of where we were last season to start practice in regards to implementing things on both the offensive and defensive ends of the floor," he added.
Expected to lead the way this season are three full-time starters from last year in senior guard/forward Paige Andersen, senior forward Hannah Neemann and senior point guard Ellie Magnuson, all of whom earned all-conference recognition last winter.
Andersen led D-S in scoring and rebounding a year ago, averaging 15.1 points and 9.4 boards per contest en route to being named the team's most valuable player and earning a spot on the H-10 first team.
Andersen led the Monarchs a year ago with 28 three-point baskets and 55 assists, while placing second with 35 steals and 34 shot blocks.
Neemann complemented Andersen by scoring 13.3 points and pulling down 8.5 rebounds per game a year ago en route to being honored on the all-conference second team.
Neemann, who recently signed with McKendree University (Lebanon, Illinois) to continue her basketball career after high school, led D-S a year ago with 39 shot blocks and was among the team leaders with 34 assists and 32 steals.
Magnuson, an honorable mention all-conference pick last winter, averaged 6.8 points, 5.5 boards, 2.3 assists and 2.3 steals per game for the Monarchs.
Magnuson drained 19 shots from three-point range and also had 14 shot blocks to her credit.
Two other girls back with starting experience are junior guard Sophie Sonnichsen and junior point guard Cambri Brodersen.
Sonnichsen averaged 4.1 points per game in starting 14 of 19 games played a year ago. She also dished out 25 assists and collected 21 steals.
Brodersen started 10 of 22 games a year ago, averaging 3.6 points and 2.0 rebounds per game, while sinking 19 three-point baskets with 32 assists and 20 steals to her credit.
Other returning veterans for D-S are senior guard Cierra Kastner, junior forward Kira Langenfeld and junior forward Hannah Slater.
Kastner was named the team's sixth player of the year last winter.
Filling out the Monarch roster are senior forward Emma Mendenhall, senior guard Paige Kastner and junior guard Autumn Nemitz.
"We did some really good things last season and we had times when we didn't look very good either. Last season, players were working through new roles. Also, we're just hoping everyone stays healthy, especially this season," remarked Mich, who has enjoyed four consecutive winning seasons, including taking D-S to the Class 4A state tournament in 2019.
The Monarchs lost their first-round state tournament game that year to eventual state champion North Scott.
"This team has set high expectations. We hope to contend for a conference championship. Ultimately, the goal is to make it back to the state tournament. Some of our seniors played on the last team that made it, so they know what it takes to get there," Mich said.
"The rest of the players were part of the pratice squad that helped the varsity prepare. They got to be a part of the ride that season and now they want to experience it as well," the Monarch boss stated.
According to Mich, the Hawkeye 10 Conference might be the best in the state.
It was hard to argue a year ago, as four league teams advanced to the state tournament in their respective classes.
Lewis Central and Glenwood both qualified in 4A with the Lady Titans finishing as the state runnerup and the Rams as a semifinalist.
Red Oak qualified in 3A and Council Bluffs St. Albert advanced in 1A.
Glenwood won the H-10 last year with a perfect 10-0 record and returns a lot of key personnel for this season.
"Glenwood more than likely is going to be the number one ranked team in Class 4A. I think you could see as many as five or six teams start the season ranked or at least be ranked at some point this year," noted Mich, whose team tied with Harlan for fourth place in the league after splitting their two regular season games a year ago.
Harlan then defeated D-S (53-47) in the opening round of 4A regional play at Harlan.
"We're hopeful that if we continue to work that we can be one of those teams competing at the top of the conference. It's going to be tough each and every night you play a Hawkeye 10 opponent," Mich said.