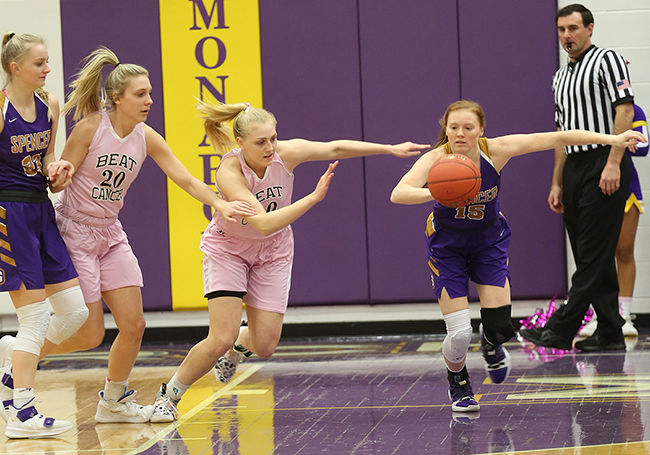 The Denison-Schleswig varsity girls picked up their fourth consecutive win on Monday night, as the Monarchs held on to edge Spencer 63-60 in nonconference basketball action at Denison.
The win moved Adam Mich's D-S club to 12-8 overall going into tonight's (Friday) final regular season game at Glenwood.
With the loss, Spencer suffered its third straight defeat in falling to 5-14 overall.
The two teams were tied 16-16 after one quarter, but then D-S outscored Spencer 25-18 in the second to take a 41-34 lead at halftime.
The Monarchs led 48-42 after three quarters before the Tigers outscored the hosts 18-15 over the final eight minutes to make it tight.
D-S struggled from long range, as the Monarchs were just 3-of-17 from three-point range, while hitting 25-of-56 attempts overall from the field for 45 percent.
Spencer, on the other hand, was 10-of-27 from behind the three-point arc and 22-of-61 overall from the floor for 37 percent.
At the free throw line, D-S was 10-of-20, while Spencer hit all six of its foul shots.
The Monarchs were led by their big three of Paige Andersen, Hannah Neemann and Ellie M, as the trifecta combined to score 55 of the team's 63 points.
Andersen and Neemann both posted double-doubles.
Andersen led the way with a career-high 28 points (19 first half) to go with 12 rebounds, while Neemann added 18 points and 11 boards.
Andersen's point total also put her at 704 points for her career.
Magnuson's all-around performance included nine points, eight boards, five assists and three steals.
With D-S up three at 61-58 in the final seconds, Magnuson drained two consecutive free throws to put her team up five and seal the victory for the Monarchs, as she was 3-of-4 at the foul line on the night.
Spencer connected on a shot in the lane as time expired to make it a three-point game at the end.
Cambri Brodersen tallied three points, while Cierra Kastner and Payton Goslar each had two points for the Monarchs, which outrebounded the Tigers by a 39-25 margin.
The two teams combined for 22 turnovers, as D-S had 12 and Spencer 10.
"Give Spencer a lot of credit. They're a better team than their record shows. They play in a tough conference and they shoot the three ball really well," commented Mich.
"We knew we were going to have a size advantage inside with Neemann and Andersen, but Andersen just went off, especially in the second quarter. We finished the second quarter on a 20-11 run and Andersen had 10 of those points," he added.
came with D-S holding a slim 55-53 lead in the fourth.
"We got a free throw from Hannah Slater, a three-point basket from Brodersen and another basket from Goslar that put us up 61-53 and give us some separation," Mich said.
"It was a fun atmosphere. It really had that postseason feeling, because you're playing somebody different and the crowd was really into it. It was good for a lot of our younger girls to be a part of that and sense what it's going to be like in the regional tournament," the Monarch boss noted.
Spencer won the junior varsity game, 52-41.
Hannah Slater led D-S with 10 points and two steals.
Kira Langenfeld added seven points and five boards.
Sophie Sonnichsen also had seven points. Cierra Kastner tossed in five points with three boards.
The loss dropped D-S to 7-10 overall on the season.
Spencer.............15 7 19 12 - 53
D-S.....................8 10 13 8 - 39
D-S Individual Statistics
Scoring: Paige Andersen 28; Hannah Neemann 18; Ellie Magnuson 9; Cambri Brodersen 3; Cierra Kastner 2; Payton Goslar 2; Hannah Slater 1
Rebounds: Andersen 12; Neemann 11; Magnuson 8; Goslar 4; Brodersen 2; Sophie Sonnichsen 1; Tia Petersen 1
Assists: Magnuson 5; Goslar 5; Andersen 2; Brodersen 1; Sonnichsen 1
Steals: Magnuson 3; C. Kastner 1; Andersen 1; Kira Langenfeld 1; Goslar 1
Blocks: Andersen 2; Langenfeld 1; Neemann 1; Goslar 1
Three-Pointers: Andersen 2; Brodersen 1