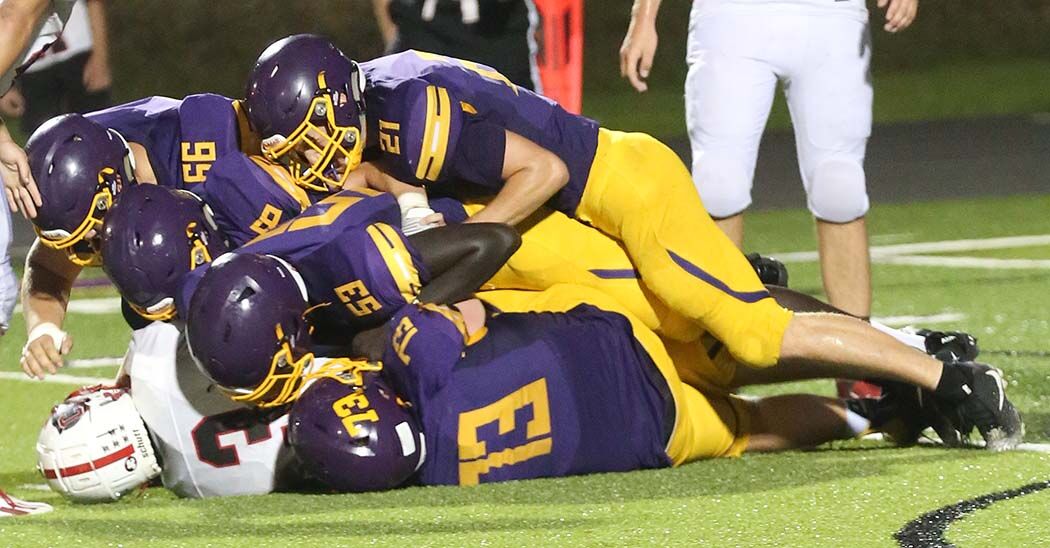 Creston shut out Denison-Schleswig 21-0 in the second half on Friday night, as the Monarchs suffered a 35-14 non-district football loss to the Panthers in their 2021 home opener at Denison.
The loss was the second in a row for D-S, which fell to 1-2 overall going into this Friday's final non-district matchup with Council Bluffs Thomas Jefferson at Council Bluffs.
With the win, Creston improved to 2-1 overall on the young season.
The visiting Panthers outgained the Monarchs 459-304 in total yards, as the visitors ran the ball 53 times for 347 yards with five rushing touchdowns on the night.
Creston quarterback Kyle Strider scored three of Creston's five touchdowns on the ground, as he ran the ball 13 times for 70 yards, while also completing 5-of-9 passes for 112 yards.
Creston's Brennan Hayes carried the ball 13 times for 161 yards with a 61-yard scoring run to his credit on the first play of the fourth quarter to put his team up 28-14 with 11:50 left to play.
The Panthers also got 119 yards rushing on 24 attempts from Briley Hayes.
D-S finished the night with 94 yards rushing and 210 yards passing.
Jaxson Hildebrand led all D-S ballcarriers with 11 carries for 49 yards and a two-yard TD run late in the first quarter that pulled the Monarchs even at 7-7.
D-S went up 14-7 at the 8:08 mark of the second quarter on a 63-yard scoring strike from Wiebers to Trey Brotherton.
Wiebers finished the night 12-of-22 for 210 yards with the one TD throw and two interceptions.
A Creston score with 4:20 left in the second sent the two teams to the halftime locker room tied at 14-14.
83 yards. Jake Fink had five receptions for 87 yards, while Aiden Schuttinga finished with two catches for 16 yards.
"We just have to practice better. That's what it really boils down to," commented Denison-Schleswig first-year head coach Kamari Cotton-Moya.
"Creston did a great job up front offensively and defensively. We just got pushed back on our heels all night and we didn't do very good job of tackling," he added.
"Give Creston a lot of credit. They have some tremendous athletes and were physical running the ball."
"We just have to get better in a lot of areas and that was the message to our kids. We have six guaranteed games left and we just have to get better," Cotton-Moya remarked.
"For us, it's all about finding what our strengths are and using that to our advantage."
"Again, it all starts in practice," Cotton-Moya said.
Defensively for D-S, Hildebrand led the team with seven tackles, including six solos.
Matthew Weltz also had 6.5 tackles, including six solos.
Blaine Brodsky recovered a fumble in the setback as well.
Creston..................7 7 7 14 - 35
D-S........................7 7 0 0 - 14
C - Kyle Strider 11 run (Aidan Anderson kick), 4:53
D-S - Jaxson Hildebrand 2 run (Carson Seuntjens kick), 47.8
D-S: Trey Brotherton 63 pass from Luke Wiebers (Seuntjens kick), 8:08
C - Strider run (Anderson kick), 4:20
C - Strider 10 run (Anderon kick), 2:26
C - Brennan Hayes 61 run (Anderson kick), 11:50
C - Briley Hayes 11 run (Anderson kick), 3:52
D-S Individual Statistics
Rushing: Jaxson Hildebrand 11-49, 1 TD; Matthew Weltz 4-27; Luke Wiebers 6-16; Jake Boelter 1-2
Passing: Wiebers 12-22, 210 yards, 1 TD, 2 interceptions
Receiving: Jake Fink 5-87; Brotherton 2-83, 1 TD; Aiden Schuttinga 2-16; Weltz 1-9; Seuntjens 1-9; Hildebrand 1-6
Scoring: Hildebrand 6 points; Brotherton 6 points; Seuntjens 2 points
Punting: Schuttinga 2-78 (39.0)
Tackles: Hildebrand 7.0; Weltz 6.5; Brotherton 5.0; Garret Plagge 3.0; Noah Faya 3.0; Griseldo Madera 2.5; Gavin Hipnar 2.0; Jake Boelter 2.0;
Fumble recoveries: Blaine Brodsky 1
Brotherton had two catches on the night for