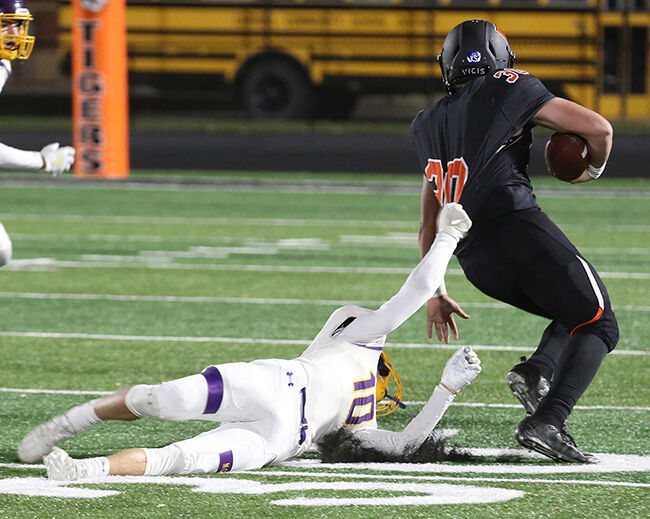 Playing its first postseason game since 2009, Denison-Schleswig got rushing touchdowns from Leo Araujo and Carter Wessel, as the Monarchs pulled off a 12-7 victory over Carroll High in the opening round of the Class 3A Playoffs on Friday night at Carroll.
With the win, D-S avenged a 42-7 District 9 regular season loss to Carroll back on September 11 at Denison.
The 3-5 Monarchs will now take on 5-2 Sergeant Bluff-Luton in a postseason second-roung game this Friday night at Sergeant Bluff at 7 p.m.
SB-L had a first-round bye and received votes for the 3A top 10 in the latest Associated Press rankings released.
Carroll outgained D-S in total yards, 233-221, as the Monarchs finished with 113 yards rushing and 108 yards passing.
The game was scoreless until the 3:26 mark of the first quarter when Araujo ran through the Tigers' defense for a 25-yard touchdown scamper to make it 6-0 Monarchs.
A scoreless second quarter left D-S up 6-0 at halftime.
Then with 4:07 left in the third quarter, Wessel had a pass picked off by Carroll's Jack Troutman deep in Monarch territory and returned it 16 yards for paydirt to tie the game at 6-6.
Nolan Mohr's PAT kick gave Carroll the lead at 7-6, which stood up after three quarters of play.
Carroll still led by one when D-S forced the Tigers to punt and took posssession of the ball at their own 45-yard line with 2:26 remaining.
D-S then recorded its biggest play of the game on first down, as the Monarchs demonstrated a perfect hook-and-ladder with Trey Brotherton and Jaxson Hildebrand.
Brotherton caught a short six-yard pass from Wessel and then pitched the ball to Hildebrand, who split a pair of Carroll defenders en route to running the ball all the way to the Tigers' two-yard line before being tackled out of bounds for a first-and-goal situation with 1:59 showing on the clock.
Two plays later, Wessel scored on a quarterback sneak to put his team up 12-7. The Monarchs tried a two-point conversion pass, but it was knocked away in the end zone.
Carroll recorded a big first down on fourth-and-12 that got the Tigers to the Monarch 17-yard line with 1:32 left on the clock.
Then with just 46 seconds remaining, another fourth-and-long situation for Carroll resulted in the Monarchs knocking down a pass near the end zone, thus turning the ball over on downs and allowing D-S to run out the clock and end the contest in victory formation with Wessel taking a knee on the game's final play.
"Tonight, it all came down to execution and the guys executed. The hook-and-ladder play is something we've been working on and we thought it was a good time to use it," commented Denison-Schleswig coach Chad Van Kley, who said the play was executed to perfection.
"We kind of went to it because Brotherton and Hildebrand are both baseball players and it was a double-play flip. That's why you like multiple-sport athletes," he added.
"Give credit to our defense. We had a couple of turnovers in the second quarter, but the defense made a stand and we just played good team football tonight."
"The first half was really good team football and in the second half we had to come back. Give their quarterback a lot of credit, as he made things interesting at the end," Van Kley remarked.
"I thought we had Jones wrapped up and then he just slipped out of our grasps. He made a heck of a play at the end, but fortunately for us, we were able to knock the pass down and take possession to run out the clock because Carroll had no timeouts left," Van Kley said.
Van Kley said it was awesome to see his team take advantage of just being able to take the field.
"It's exciting. We know we're going to have a challenge with Sergeant Bluff-Luton, but we've had challenges all year and we're just thankful for the opportunity to be moving on and taking the field together for at least one more game," Van Kley stated.
Araujo led all D-S ballcarriers with 12 rushes for 55 yards and the one TD run. Wessel ran eight times for 41 yards with the go-ahead QB sneak for a score.
Hildebrand also ran 11 times for 16 yards.
In passing, Wessel was 4-of-11 for 108 yards with two interceptions.
Matthew Weltz caught two of Wessel's passes for 31 yards. Hildebrand had one catch for 53 yards and Evan Turin hauled in one pass for 24 yards.
Carroll senior running back Ryan Johnston, who ran for 180-plus yards in the first meeting this season, was limited by the Monarch defense to only 50 yards on 14 attempts this time around.
Tiger QB Kellin Jones was 11-of-28 for 148 yards with one interception in the passing department.
Defensively for D-S, Javier Gonzales was in on 12 tackles with one QB sack.
Nathan Gallup and Joe Graeve both were in on seven tackles. Hildebrand chipped in with five tackles in the win.
Wessel had four tackles and picked off a pass for the Monarchs.
D-S...........................6 0 0 6 - 12
Carroll......................0 0 7 0 - 7
D-S - Leo Araujo 25 run (kick failed), 3:26
C - Jack Troutman 16 interception (Nolan Mohr kick), 4:07
D-S - Carter Wessel 1 run (conversion pass failed), 1:54
Rushes/yards: 33-113 36-85
Comp/att/int: 4-11-3 11-28-1
D-S Individual Statistics
Rushing: Leo Araujo 12-55, 1 TD; Carter Wessel 8-41, 1 TD; Jaxson Hildebrand 11-16; Matthew Weltz 1-2
Passing: Wessel 4-11, 108, 3 interceptions
Receiving: Hildebrand 1-53; Weltz 2-31; Evan Turin 1-24
Scoring: Araujo 6 points; Wessel 6 points
Tackles: Javier Gonzales 5 UA, 7 A; Hildebrand 4 UA, 1 A; Nathan Gallup 4 UA, 3 A; Joe Graeve 4 UA, 3A; Weltz 3 UA; Trey Brotherton 3 UA; Wessel 2 UA, 2 A