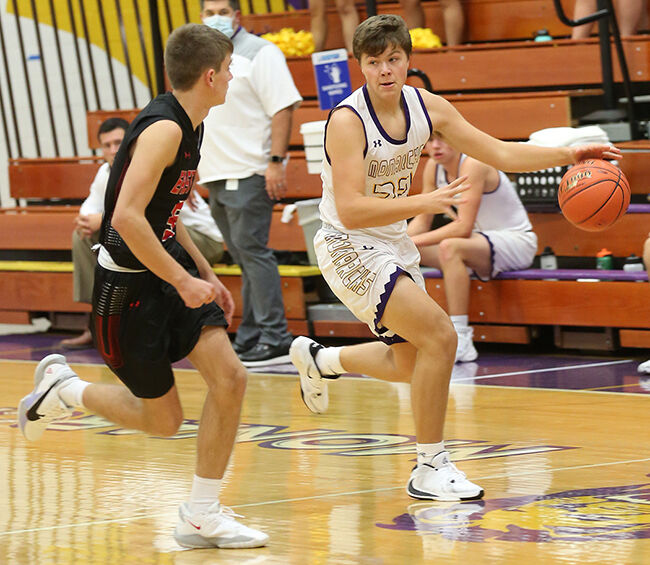 Braiden Heiden and Matthew Weltz combined for 31 points on Monday night, as the Denison-Schleswig boys picked up a 55-47 victory over East Sac County in an Iowa Hall of Pride scrimmage at Denison.
D-S actually trailed 25-23 at halftime, but then outscored East Sac County 20-8 in the third quarter to take a 43-33 advantage into the fourth.
"Tonight, I was really eager to get our guys out on the court after a week of practice against an always-solid East Sac program," commented Denison-Schleswig coach Derek Fink,
"I thought we shared the basketball really well, and when we started to play uptempo, we got the game to a speed of our liking," he added.
Heiden led the attack for D-S with 21 points, adding four rebounds, four steals and one assist.
Weltz complemented Heiden with 10 points, six boards and two assists.
Hunter Emery chipped in with eight points and two boards. Evan Turin had six points, three boards and two assists, while Carter Wessel finished with six points, four boards and four assists.
Aiden Schuttinga also had three points, five assists, two boards and one steal. Brady Boell wound up with one point and five boards for the Monarchs, which sank 6-of-16 tries from three-point range and were 21-of-47 overall from the field for 44.7 percent.
Heiden and Emery both drained two three-point baskets.
"Overall, a lot of positives to take from tonight," Fink said. "I think every guy that played tonight contributed in some fashion.
"And for this team, I think we will see multiple guys step up on any given night. That's exciting for our program and our coaching staff to see this team grow, share the ball and play hard night-in and night-out," Fink remarked.
D-S helped its own cause by taking care of the ball, as the Monarchs committed only 11 turnovers all night.
The D-S junior varsity boys defeated East Sac County, 47-34.
Jaxon Wessel scored 14 points and Carson Seuntjens added 12 points for the Monarchs, which led 19-14 at halftime and 36-22 going into the fourth quarter.
Lucas Segebart, Michael Manuel and Gavin Hipnar all had four points each.
Wyatt Randeris had three points and Jakob Wigg finished with two points.
"I was pleased with our patience against their 2-3 zone. We shared the wealth, ran in transition and rebounded great," commented Denison-Schleswig coach Ricky Torres.