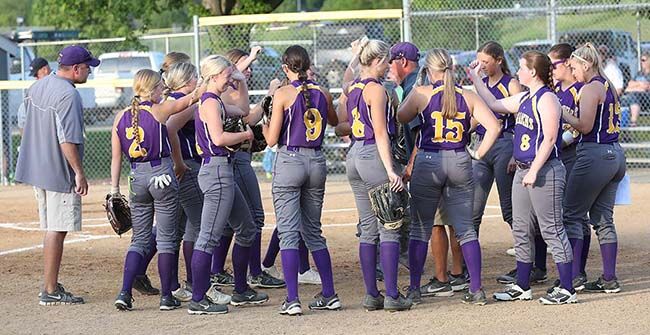 Emma Mendenhall drilled a solo home run and Claire Miller put together another solid effort in the circle, as Denison-Schleswig picked up a big 5-2 Hawkeye 10 Conference softball victory over Lewis Central on Tuesday night at Denison.
The triumph also extended the win streak to five games for D-S, which moved to 6-1 in H-10 play and 9-3 overall.
LC fell to 4-3 in the conference and 8-4 overall with Tuesday's loss.
LC scored the game's initial run in the top of the first inning, but D-S then tied it with a run in the third.
The Monarchs then plated four consecutive runs with two in the fourth, one in the fifth and one more in the sixth to make it 5-1.
LC scored the game's final run in the seventh.
D-S had six hits on the night.
Paige Kastner went 2-for-3 with one run batted in. Emma Mendenhall also was 2-for-3 with a solo home run in the sixth that went off the foul pole in left field that put the Monarchs up 5-1 at the time.
Mendenhall drove in two runs and scored twice in the win.
Kira Langenfeld went 1-for-2 with a double, one RBI and one run, while Teryn Fink finished 1-for-3 with one RBI and one run.
Leinen again went the distance in the circle, allowing the two runs on six hits with eight strikeouts to her credit and only one walk.
"By far the most complete game we've played all year. We were good in all three facets of the game," commented Denison-Schleswig coach Kevin Dau.
"Leinen continues to take huge steps. She did a great job of locating her pitches and had control of her pitches, as she kept the LC batters off-balanced with a variety of different pitches," he added.
"You know we had only six hits, but we had some huge two-out hits."
"We didn't strike out a lot. We put the ball in play or we walked to get on base. Tonight, we had a lot of quality at bats," Dau said.
The D-S junior varsity girls topped LC, 13-3.
Hailey Meseck went 2-for-2 with three runs scored to lead D-S.