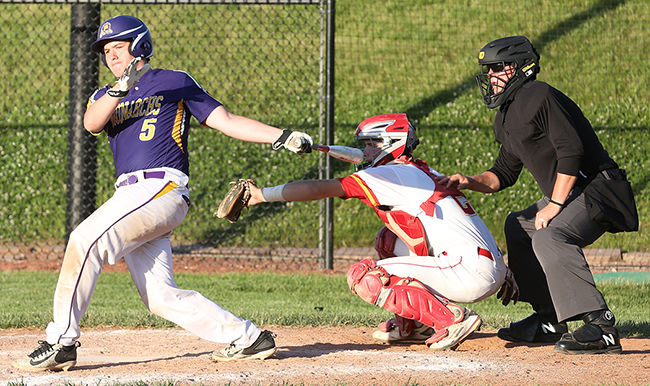 Denison-Schleswig plated three runs in the bottom of the seventh inning on Monday night, as the Monarchs rallied for a come-from-behind 7-6 Hawkeye 10 Conference baseball victory over Kuemper Catholic at Denison.
The win moved D-S to 4-2 in the H-10 and 6-4 overall on the season.
Down 1-0, D-S pushed four runs across in its first at bat to take a 4-1 lead. It stayed that way until Kuemper tallied two runs in the fifth and another in the sixth to tie it at 4-4.
The visiting Knights then scored two runs in the top of the seventh for a 6-4 lead. That set up the final at bat for Travis Wessel's squad, which scored three times for the win.
Kuemper outhit D-S by a 9-7 margin.
Dawson Dorhout went 2-for-4 with a pair of singles for D-S. Jack Mendlik went 1-for-3 with two runs.
Braiden Heiden was 1-for-2 with two runs scored and one run batted in.
Nathan Gallup went 1-for-4 with one RBI. Jaden
Petersen finished 1-for-3 with a double and three RBIs, while Carter Wessel was 1-for-1 with two RBIs and three walks.
Mendlik opened on themound for D-S and threw five innings, yielding three earned runs on seven hits with two strikeouts and four walks.
Evan Turin then relieved Mendlik and would pick up the win after giving up three runs (one earned) on two hits with three Ks and two walks in two innings of work.
Kuemper Catholic won the junior varsity contest, 8-0.
Jaxon Wessel and Hunter Emery both hit safely for the Monarchs.
Parker Bekkerus threw three innings for D-S, while Caden Fletcher and Carlos Salazar both saw time on the mound in relief.
The Knights used a six-run fourth inning to fuel their attack.