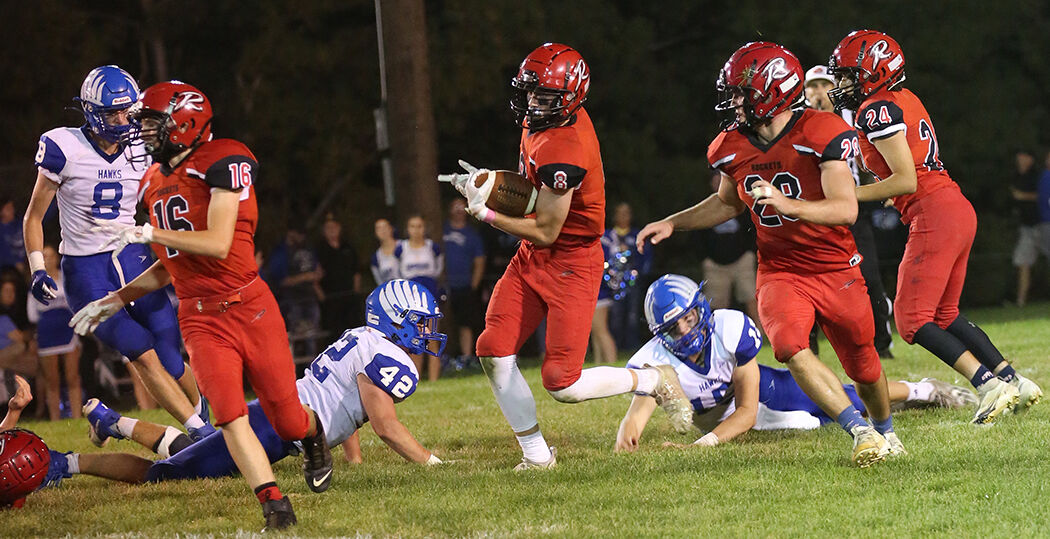 Ar-We-Va hosted fourth-ranked and unbeaten Remsen-St. Mary's on Friday night and the visiting Hawks left Westside with a 64-20 victory over the Rockets in Eight-Man, District 1 play.
The loss snapped a four-game win streak for Ar-We-Va, which slipped to 3-2 in District 1 and 4-3 overall going into this Friday's regular season finale against district-foe Newell-Fonda (6-1, 4-1) at Newell.
R-SM led 13-0 midway through the first quarter when Ar-We-Va's Will Ragaller raced 65 yards for a touchdown with 6:27 left in the first quarter to pull the Rockets to within 13-6.
R-SM took the ensuing kickoff back for a 79-yard score and that led to three consecutive TDs for the Hawks in the first quarter, as the visitors led 33-6 after the initial 12 minutes.
The Hawks led 51-14 at halftime and 64-14 after three quarters.
In the second quarter, Ar-We-Va's Cooper Kock forced a fumble with just over five minutes left, as Will Ragaller scooped it up and returned it 33 yards for a TD.
Ar-We-Va scored the lone TD of the fourth on a 26-yard pass from Will Ragaller to Braeden Kirsch.
Will Ragaller carried the ball 20 times for 175 yards with the one TD run of 65 yards. He also was 14-of-24 for 114 yards in the passing department with the one TD throw to Kirsch and two interceptions.
Kirsch finished with six catches for 69 yards on the night. Kock had five pass receptions for 35 yards.
Defensively for Ar-We-Va, Kock led the Rockets with 6.5 tackles, including four solos. Will Ragaller also had 5.5 tackles (3 solo).
Damon Ehlers and Jonathan Dose each were in on a four tackles for the Rockets.
"We knew going into this football game that we would have a tall task in facing a very athletic and fundamental team, but our guys fought hard all game against a top-5 team in the state," commented Ar-We-Va co-head coach Austin Stoelk.
"We had too many uncharacteristic penalties in the first half that were timely in certain drives to sustain field position and continue moving the football forward offensively," he added.
"We were able to establish some of a running game at times, but were just unable to keep that consistency. Defensively, we got beat over top a few times and they had a couple bigger runs."