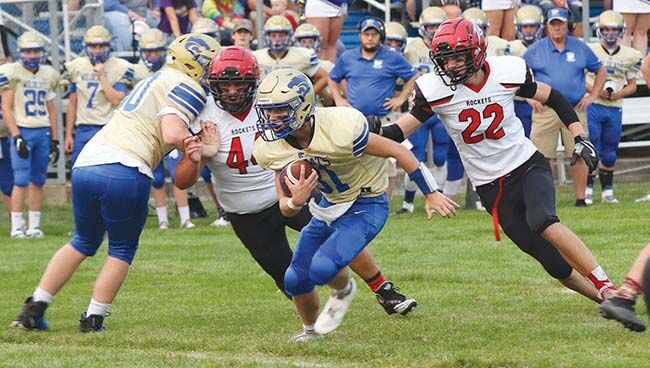 Ar-We-Va posted a 27-point second quarter en route to a 45-31 Eight-Man, District 1 victory over Glidden-Ralston on Friday night at Glidden.
The win was the first of the season for Ar-We-Va and first-year co-head coaches Austin Stoelk and Isaac Schaefers, whose Rocket squad moved to 1-1 in District 1 and 1-2 overall on the season.
G-R actually jumped ahead 13-0 after the first quarter, but was outscored 27-6 in the second quarter, as Ar-We-Va went up 27-19 at the half.
The Rockets then outscored the Wildcats 12-6 in the third quarter for a 39-25 lead going into the final 12 minutes.
Ar-We-Va senior Will Ragaller had a huge night for the Rockets despite playing with a sore hamstring.
Will Ragaller accounted for six touchdowns on the night with three rushing TDs and three passing scores
Will Ragaller ran the ball 29 times for 144 yards with three TDs of 6, 2 and 9 yards.
He also completed 10-of-21 passes for 159 yards with three TD throws to Cooper Kock for 3, 34 and 30 yards.
Kock had six receptions for 81 yards on the night, while also running the ball eight times for 42 yards with a rushing score of two yards.
Braeden Kirsch also had three pass receptions for 73 yards.
Defensively for Ar-We-Va, Will Ragaller and Kock each had 8.5 tackles.
Kock had seven solos with Ragaller contributing five solos.
Wade Ragaller also had 6.5 tackles with two solos to his credit.
"Our guys came out in this week three game with a lot of energy and hunger to get our first victory of the year," Ar-We-Va's coaches said.
"Glidden-Ralston came ready to play and struck us early with a 13-0 lead in the first quarter. However, our guys did a great job of staying poised and not letting this affect the rest of the game," they added.
"We played with great intensity on the defensive side of the ball, allowing only 12 points in the second half. Up front our guys were relentless on both sides of the ball. This was a major key to our success along with great communication from our secondary defensively," the Rocket coaches remarked.