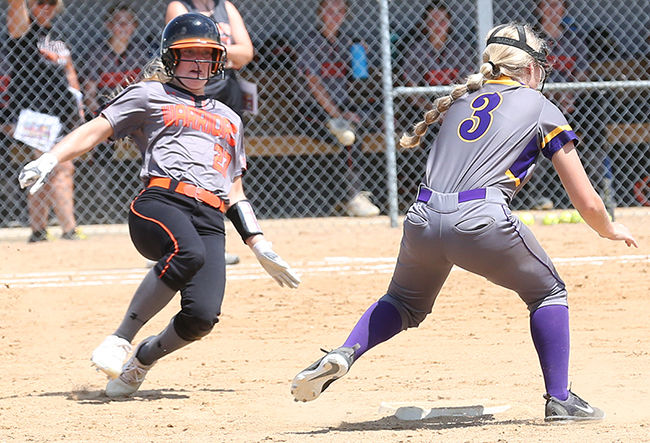 Class 4A sixth-ranked Sergeant Bluff-Luton scored three runs in the seventh inning on Saturday, as the Warriors picked up a 6-3 nonconference softball victory over Denison-Schleswig at Denison.
The loss dropped D-S to 1-5 overall on the year.
D-S scored two runs in its first at bat and led 3-1 when SB-L's Emma Christensen blasted a two-run home run over the fence in right center field in the fourth to tie the game at 3-3.
Christensen went 3-for-4 at the plate with a double to the gap in left center before her homer in the fourth.
The Warriors then plated three runs after two outs in the top of the seventh.
D-S tallied five hits in the game.
Paige Kastner went 2-for-4 with one run batted in and one run scored.
Kennedy Marten also went 2-for-3 with one run and Kira Langenfeld was 1-for-3 for the Monarchs, which stranded a total of six runners on the bases.
SB-L left seven girls on.
The game was pretty much a pitching duel between Hailey Meseck of D-S and Kenzie Foley of SB-L.
Meseck went the distance for the Monarchs, allowing the six runs on 11 hits with two strikeouts and one walk.
Foley tossed all seven innings as well. She gave up three runs (two earned) on five hits with seven Ks and one walk.
"We hit the ball hard and made good contact against a very good pitcher," commented Denison-Schleswig coach Kevin Dau.
"Offensively, we're starting to come around and I thought we had a lot of good approaches at the plate. Give Sergeant Bluff credit, as they were able to put hits together in the seventh after we got two outs," he added.
"You know, if we get out of the seventh, it was there for us to win it in our final at bat. We led 3-1 and we had chances to put the game away, but the breaks just didn't go our way. I was happy with our effort, though," Dau remarked.
The D-S junior varsity girls and SB-L ended in a 3-3 tie.
Delaney Lutz, Kaitlyn Bruhn and Claire Leinen all went 1-for-2 at the plate for D-S.
Emma Mendenhall was 1-for-3 with a double.
Kiana Schulz also went 1-for-3 with one RBI and one run. Autumn Nemitz also was 1-for-3 with one run.
Anna Meyer also drove in one run in the win.
Nemitz tossed two innings, yielding two runs on three hits with two strikeouts and one walk.
Leinen also threw four innings, as she gave up one run on one hit with six Ks and two walks for the Monarchs.