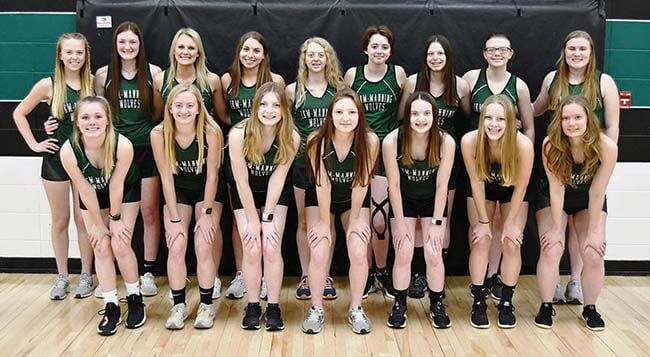 The IKM-Manning girls' track and field team in 2021 will feature a total of 16 athletes under the direction of veteran head coach Robert Cast.
The Wolves return three letterwinners from the 2019 season, including Class 1A state qualifiers in senior Alexa Ahrenholtz and junior Bianca Cadwell.
Ahrenholtz competed at the state meet in 2019 in the high jump, 100-meter dash and as a member of the Wolves' 4x200 relay team.
Cadwell, meanwhile, was a member of IKM-Manning's state-qualifying 4x800 relay team as a freshman in the 2019 season.
Junior Jessica Christensen is the third returning letterwinner for the Wolves.
Filling out the team's roster are sophomores Julianna Stribe, Mabel Langel, Maddie Snyder, Kaitlynn Spoelstra, Emmie Ring, Amber Halbur and Morgan Hanson; and freshmen Ella Richards, Abbagail Neiheisel, Hollie Blum, Audrey Menough, Rea Chambers and Emilly Blankenship.
"A goal this season will be to help our young athletes develop and compete at the varsity level right away," commented Cast, who will be assisted by first-year coach Rachel Skeen and longtime volunteer assistant coach Tammy Muhlbauer.
"With our numbers down, staying healthy will be very important," he added.
"With losing last year, it will be great to see the athletes return to competition," noted Cast.
6 - Riverside Invitational; 9 - Denison-Schleswig Co-Ed at Denison; 12 - Carroll Invitational; 16 - East Sac County Invitational at Sac City; 19 - Ace Nelson Relays at Denison; 22 - O-A/BC-IG Invitational at Ida Grove; 27 - Audubon Invitational; 29 - Adair-Casey/GC Invitational at Adair
4 - Western Iowa Conference Meet at Audubon; 6 - South Central Calhoun Invitational at Lake City; 10 - Tri-Center Invitational at Neola