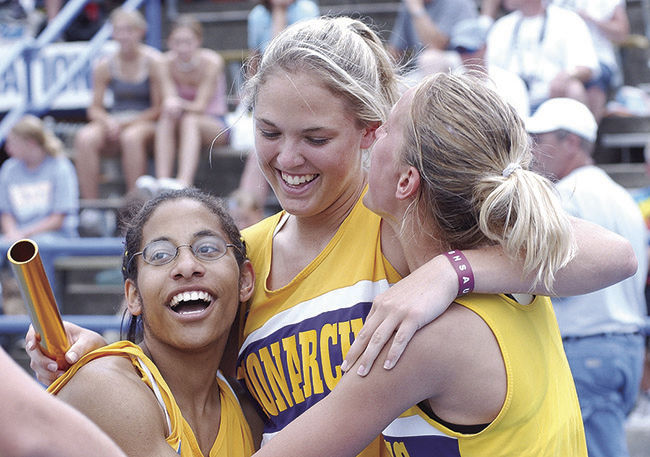 Denison-Schleswig has fielded some tremendous track and field teams over the years.
The 2004 and 2005 Monarch girls' track and field teams were not only among the best in western Iowa, but then head coach Al Neppl's squads at that time were mentioned right up with the state's elite programs.
Denison-Schleswig athletes captured seven Class 3A state championships in those two years, including two individual and five relay titles.
Leading the charge for D-S was Lindsay Wiebers, now Lindsay Kleve after her marriage to Brandon Kleve in July, 2016.
Wiebers has her name on six state championships, winning the 100-meter dash in 2004 as a junior, while being part of two relay titles in 2004 and three during her senior season in 2005.
Wiebers claimed the 100-meter dash in a time of 12.74 seconds en route to becoming the first Denison High School girl to capture an individual state track and field title on the blue oval at Drake Stadium at Des Moines.
Wiebers also anchored two state championship relay teams in 2004, as the same four girls ran on the winning 4x100 and 4x200 squads.
Christine Burnett, Nicole Clausen, Sarah Glenn and Wiebers won the 4x100 in 49.58 and 4x200 in 1:43.10.
D-S finished fourth overall in the final Class 3A team standings at the state meet in 2004.
A year later in 2005, the Monarchs rewrote the school's track and field history book, recording a school-record 67 points at the state meet and finishing third overall as a team in Class 3A, the highest ever for a team from Denison.
In 2005, Burtnett made it consecutive years for a Monarch athlete to bring home the title in the 100 meters, as the sophomore took first in 12.66, the fastest time recorded in any of the four classes that season.
D-S took gold in three relays in 2005.
The 4x100 foursome of Burtnett, Clausen, Lindsey Swanson and Wiebers set an Iowa all-time record in the prelims and then won the title in a time of 49.07.
The 4x200 team of Swanson, Caroline Carstensen, Glenn and Wiebers took first place in 1:43.00, setting a new school record and a Class 3A state meet record with its effort.
The 4x100 and 4x200 teams at the state meet that year both were the all-class champions after running the fastest times among the four classes.
D-S won a third state relay title in 2005 with Burtnett, Carstensen, Clausen and Wiebers capturing the sprint medley event in 1:51.22.
"I have so many great memories from those years with my teammates, coaches and family. I just loved running and competing. Track was by far my favorite sport," commented the 33-year-old Kleve, a 2005 graduate of Denison High School.
"We had pretty good teams back then. We just had a lot of team camaraderie. As far as the relay teams went, we just really had good connections because we were in so many races together. Our handoffs were nearly flawless," she added.
Kleve remembers the 100 in 2004 as being one of the more competitive races that she has ever been involved in.
"Girls that I competed against in the 100 at state were girls who I ran against all season. Our area had some outstanding sprinters at the time, so I was pretty familiar with a lot of the competitors," Kleve said.
"I remember crossing the finish line and then almost being knocked over by Clausen and my other teammates. It was a pretty special moment for me," added Kleve, who also placed third in the 200-meter dash at the state meet in 2005.
"The 200 actually was my favorite race. It wasn't too short and it wasn't too long," said Kleve, also a Drake Relays competitor throughout he career.
"I just remember I put in a lot of work with coach Neppl. He put me in position to win the 100," remarked Kleve, who is an optometrist and opened her own practice two years ago with a partner in Waukee called Focus Eye Care.
Lindsay and her husband, Brandon, live in Grimes with their two children: son Carter, 3, and daughter Olivia, eight months.
Brandon teaches ninth grade science at Johnston High School.
Kleve said she feels for this year's senior class and other spring sports athletes having their seasons cancelled because of the coronavirus pandemic.
"I couldn't imagine what I would have been like if my senior track season had been cancelled. I enjoyed competing so much and I still miss it today," Kleve said.
"I know it's a difficult time for them now, but they need to reflect on the good years they had before this year and cherish those moments."
"They will get through this. I would tell them to look to the future, because there will be a lot more positives ahead in their lives," Kleve said.
Neppl served as the head track and field coach at Denison from 1995 to 2007.
"Our teams during those years were loaded with talent. It was a group of girls that would do anything that we asked them to do. They did what was best for the team and never complained. They understood the excitement of winning meets," commented Neppl.
"I remember that myself and assistant coaches Denny Lokken and John Held just had a lot of fun with the kids," remarked Neppl, who graduated from Denison High in 1987 and ran distance races for the Monarch boys' track and field team under the guidance of Lokken.
Neppl said watching Wiebers win the 100 meters as a junior was a great moment for him.
"I remember I was in the stands near the finish line. We knew she had the speed to win it, but so much more goes into the race than just speed," Neppl said.
"I remember she won race convincingly and I will never forget the race, as I have a picture of her crossing the finish line with her arms raised in my office. I see it everyday," added Neppl.
Neppl said he knew Wiebers was going be something special in middle school.
"Just watching her in middle school, I knew she was going to be a kid to watch in high school," Neppl said. "She played soccer at the same time, but I think track was first to her. She loved to run the individual races."
Neppl still stays in touch with Kleve.
"I guess you can say I see her. She's my eye doctor now," Neppl said laughing.
Neppl's track and field coaching philosophy was simple.
"I never wanted to be the coach in the stands just taking times. My philosophy was to coach through the meet. I know a lot of people didn't like it that we were down by the track, but I firmly believed in coaching through the meet," Neppl said.
When looking back at those years, Neppl had one statement.
"One thing for sure is that I would do all again in a heartbeat. It was a great time for me and my family and I just thank the girls for taking me along for the ride," Neppl said.
Neppl currently works as an elementary principal for the Ankeny Schools District.
Al and wife, Gloria, live in Ankeny and have two sons, Cole, 23, and Collin, 20.