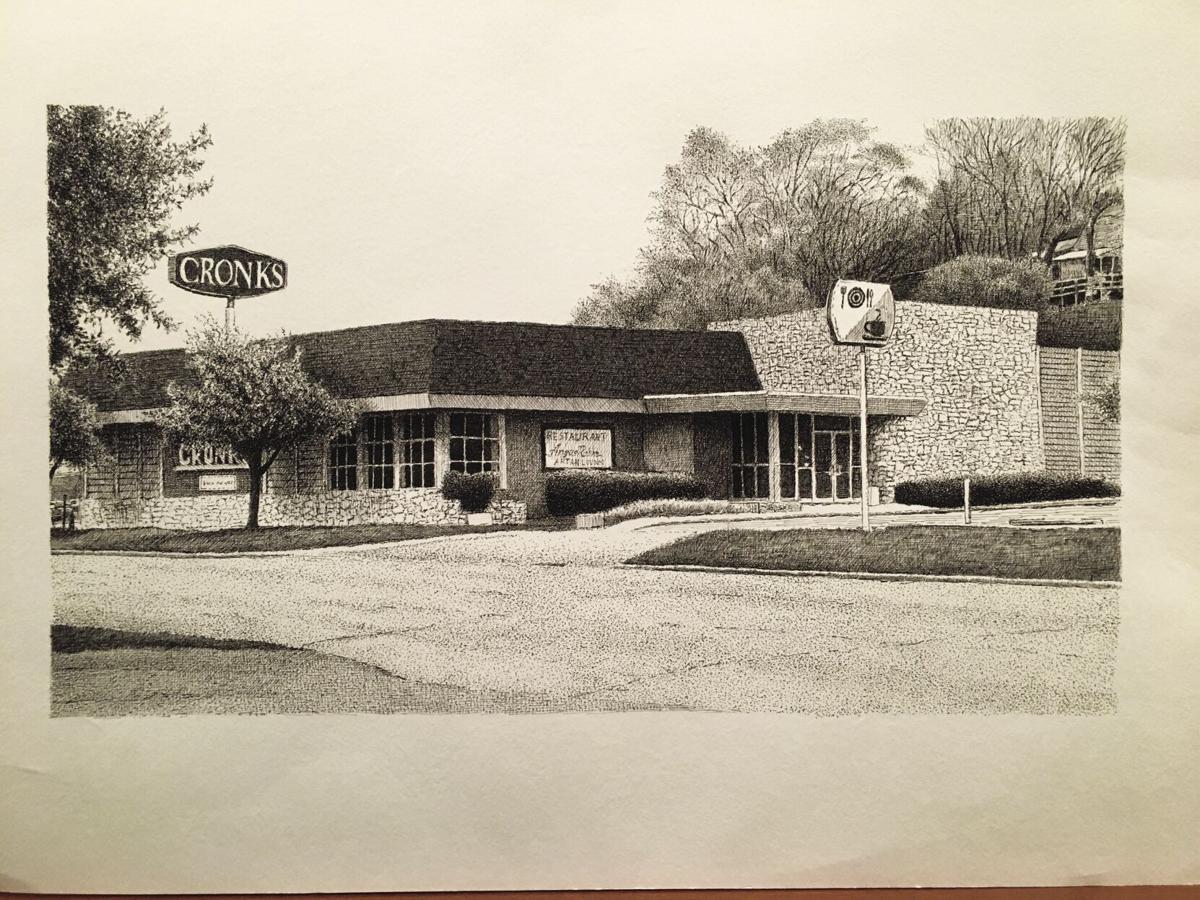 "In this time period, when everybody is feeling so isolated, those places where we have gathered in the past really stand out in our minds," said Joel Lueck. "When we see those places change or being on the verge of disappearing we feel off balance."
Lueck, a 1982 Denison High School graduate, said he felt that way when he learned that Cronk's Café was up for sale.
He knew right away that he had to get a picture of the restaurant to turn into a piece of artwork.
"I don't know what the future of that's going to be so if I want to capture it I have to do it now," he said.
Lueck works as a 3D animator at a company called Engineering Systems, Inc., (ESi) in Ames.
When he is not animating, pen and ink drawing is his chosen form of artistic expression.
He creates his works from photographs he takes of his subjects, which are usually architecture.
"So many things I draw, or want to draw, disappear," he said.
"I've driven past several farm places that I wanted to draw but I put it off. I didn't stop to take a picture. I thought, oh, I'll get it some other time. And then one day I drive by and it's been bulldozed under. I can't take that back because I don't have any pictures of it and it's gone."
Having a camera on his cell phone has made the process a little easier, he said.
He drove to Denison to take pictures shortly after he heard that Cronk's was for sale.
"There are so many memories attached to Cronk's for me," Lueck said.
He has attended wedding receptions, class reunions and other events there.
When he was a kid, his dad, Kenny Lueck, would take him to Cronk's after Little League games.
"It's a landmark and it has ties to so many people, so it seemed like it was the perfect place to draw at this moment in time," Lueck said.
He has put about 20 hours into creating a new drawing of Cronk's, which he expects to complete this week.
Lueck uses several marking styles to represent various parts of the image
"The stonework is just lines, the trees are crosshatch and scribbles and the road is stippling - or dots," he said.
"I wanted the road to be a little different from the building so the building would stand out a little bit more from the surroundings. The trees are a little bit abstract."
Lueck said his method of drawing requires that he step back from the work quite often.
"When I draw I'm about eight inches away so when I draw the crosshatch and the dots it's like looking at a newspaper with a magnifying glass. I see all these dots and I can't tell what I'm looking at," he said. "Every 15 or 20 minutes I have to put the picture about 15 feet away from me and then look at it for a while."
This helps him make sure all the grays are working out and nothing is too dark or too black.
"I try to keep everything balanced," he said.
Drawing gives him the opportunity to think about a place, he said.
"It gives me time to reflect on what that place means to me," Lueck said. "It just gives me time to absorb it and to understand it a little bit better. The process is slow enough that it gives me a chance to enjoy those memories."
Putting the work into a drawing gives meaning to a place that is beyond what he gets by simply taking a picture, he said.
"I take a picture and I look at it and then tuck it away and it's gone – but a drawing gives me at least 20 to 50 hours where I can really remember a place and give myself a chance to think about that place," Lueck said.
He has wanted to draw Denison subjects for a while and his experience with the Cronk's drawing has made him want to do more.
"I walked through uptown and I took some pictures of the post office and a few other places," he said. "I'll probably do it again and start taking picture of places like the high school and other places that mean something to people that we can all agree on."
He wants to find more subjects that people can share.
"It's about unity," he said. "We're in kind of a time where it seems everybody is separated and being pulled apart. Division lines are being set up and it's kind of nice to have some things we can all unite behind. Maybe through that we can start seeing that our relationships with each other are very important and that some of that really overrides any of the divisions we might have that come up in day-to-day politics."
Lueck said an individual from Denison has shown interest in purchasing his Cronk's drawing.
Once he has put the finishing touches on it he will have it scanned and prints will be available at Fine Art America where he has an account at joel-lueck.pixels.com.