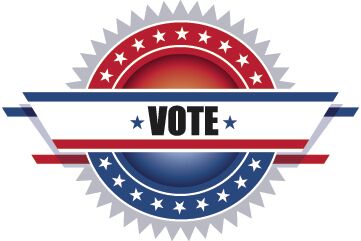 Monday, October 5, is the first day to vote in-person by absentee ballot for the November 3 general election.
Following are other important dates on the general election calendar.
Saturday, October 24: Auditor's Office open, voter pre-registration deadline, deadline to request an absentee ballot to be mailed
Saturday, October 31: Auditor's Office open 8 a.m.-5 p.m.
Monday, November 2, 5 p.m.: Absentee ballot in-person voting deadline
Tuesday, November 3: Election Day, polls open 7 a.m.-9 p.m.
Information about the general election, including images of sample ballots, can be found on the Auditor's Office site on Crawford County's new website at www.crawfordcounty.iowa.gov.
Following are the candidates on the ballot in Crawford County. Differences in state senate and representative districts are noted. Township trustee candidates are listed toward the bottom of the article.
Federal Offices
President and Vice President
Joseph R. Biden and Kamala D. Harris, Democratic Party (DEM)
Donald J. Trump and Michael R. Pence, incumbents, Republican Party (REP)
Roque Rocky De La Fuente and Darcy G. Richardson, Alliance Party (ALL)
Don Blankenship and William Alan Mohr, Constitution Party of Iowa (CON)
Ricki Sue King and Dayna R. Chandler, Genealogy Know Your Family History (GKH)
Howie Hawkins and Angela Nicole Walker, Green Party (GRN)
Joe Jorgensen and Jeremy Cohen, Libertarian Party (LIB)
Brock Pierce and Karla Ballard
Kanye West and Michelle Tidball
Theresa Greenfield, DEM
Joni Ernst, incumbent, REP
Rick Stewart, LIB
Suzanne Herzog
J.D. Scholten, DEM
Randy Feenstra, REP
State Offices
Buena Vista, Sac, Carroll and Audubon counties and eastern one-third of Crawford County. On the ballot in the Northeast and Southeast precincts in Crawford County.
C.J. Petersen, DEM
Craig Steven Williams, REP
State Representative District 12
Carroll and Audubon counties and eastern one-third of Crawford County. On the ballot in the Northeast and Southeast precincts in Crawford County.
Sam Muhr, DEM
Brian Best, incumbent, REP
Blake Johannes, LIB
State Representative District 18
Shelby, western two-thirds of Crawford County and 7 townships in Harrison County. On the ballot in the DCAB, Denison and SRK precincts in Crawford County.
Damon Hopkins, DEM
Steven Holt, incumbent, REP
County Offices
Dave Muhlbauer, incumbent, Democrat
Jean Heiden, Republican
Ty Rosburg, Republican
Terri Martens, incumbent, Democrat
No other candidates on the ballot
James R. Steinkuehler, incumbent, Democrat
Ray C. Ohl, Republican
Collin Johnson (current office holder), Democrat\
No other candidates on the ballot
Non Partisan Offices
Crawford County Memorial Hospital Trustees
Rich Knowles
Thomas E. Gustafson, incumbent
Amy Schultz
David Reisz
Soil and Water Conservation District Commission
 Dennis Lally
William Magill
No other candidates on the ballot
County Agricultural Extension Council
Brian Sieren
Renee Von Glan
Kory Koenig
Lance Bromert
Elsa Erlbacher
Roger Reimers
Judicial Ballot
Retention vote, yes or no
Iowa Supreme Court Justices
Thomas Waterman
Susan Kay Christensen
Edward Mansfield
Christopher McDonald
Iowa Court of Appeals Judges
Sharon Soorholtz Greer
Thomas N. Bower
David May
Julie A. Schumacher
Tod J. Dek
Zachary S. Hindman
Duane E. Hoffmeyer
District 3B Associate Judges
Mark C. Cord III
John C. Nelson
Daniel P. Vakulskas
Public Measure
"Shall there be a convention to revise the Constitution and propose amendment or amendments to same."
Note: This public measure is required by the Iowa constitution to be on the general election ballot every 10 years, to allow people the choice of whether or not they want a state constitutional convention. If the measure passes, a process would be enacted by the next General Assembly to elect delegates to the convention. A constitutional amendment or amendments proposed at the convention would be put before the voters for ratification.
Township Trustees and Clerks
Charter Oak Trustee to fill a vacancy
Charter Oak Clerk to fill a vacancy
Union Trustee to fill a vacancy
Soldier Clerk to fill a vacancy