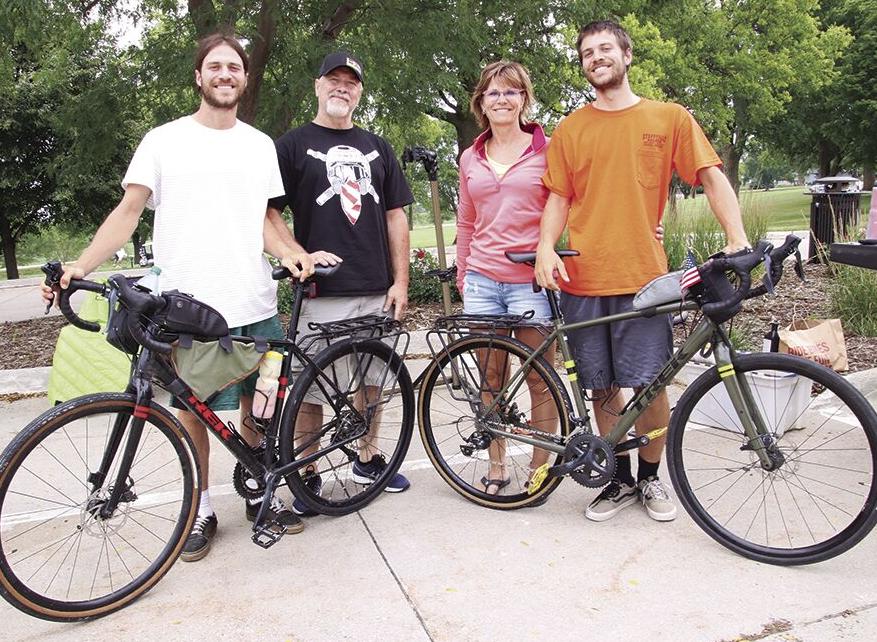 Last Thursday was a day of rest for twins from Minnesota. Jeremy and Jordan Ringgenberg, of Jackson, took their only planned day of rest on a cross-country bicycle journey.
They stopped at Cobblestones Inn & Suites – Majestic Hills in Denison to look over equipment and meet up with parents Curt and Deb.
Denison was about the halfway mark on their bicycle trip from Seattle to Washington, D.C., and the only stop on the trip at which they will meet up with their parents. The brothers travel self-sufficiently with packs draped over their bicycles.
The Ringgenberg twins, age 25, detail vehicles but took the summer off to go on their journey. It started on June 7 and they hope to complete the trip in another month, by the first or second week in August.
YouTube videos were part of the inspiration for the trip, said Jeremy.
"You see people going on big tours and bike-packing and you say, 'I can do that.' You see all types of people doing it."
The Ringgenberg brothers are more into mountain biking and didn't train much before their cross-country trip.
"We grew up riding dirt bikes and stuff like that," said Jordan, "but just a few years ago we got into mountain biking. Seeing people throw bags on the bikes and going for longs trips and adventures inspired us."
Last year they did an off-road mountain bike packing experience.
On this journey, on-the-road training has increased how far they ride each day.
"We were probably doing 50-60 miles a day to start and now we're doing 70-80," said Jeremy.
The route the Ringgenbergs selected loosely follows the Great American Rail-Trail, a trail of more than 3,700 miles wandering from Washington State to Washington, D.C. Just more than 50% of the trail is complete. Between Washington state and Washington, D.C., the route travels through Idaho, Montana, Wyoming, Nebraska, Iowa, Illinois, Indiana, Ohio, Pennsylvania and Maryland.
The brothers had intended to ride the Great American Rail-Trail last year but decided against it because of the coronavirus pandemic.
They also picked their route by what they wanted to see.
"We ended up going through the Black Hills," said Jordan. "It is not part of the route but it has a really cool trail that our dad told us about - the George Mickelson Trail, just over 100 miles long. So we're doing a little bit of our own thing but kind of loosely following the Great American Rail-Trail."
The twins don't have set stopping points along their trek.
"Sometimes we don't know where we're going to end up at the end of the day," said Jeremy. "We try to make it to a town to see what we have for camping. Sometimes we just duck off into the woods. We're pretty self-sufficient but we like to end up where there's water.
"We're not traveling heavy like a lot of tourists. We're going kind of light so it requires us to stop every once in a while to get food," he added. "Most people carry stoves but we don't do that."
The ride has gone relatively smoothly despite an inauspicious start, actually before the ride even started.
"I was cutting zip ties with a pocket knife and sliced my finger open," said Jordan.
That happened after they arrived at the Seattle airport after flying from Minneapolis.
Except for a couple 100-degree days while crossing Nebraska, the weather had been more friend than foe.
The only continuous challenge seems to be flat tires.
"Countless numbers of flat tires," said Jordan. "We stopped counting, but I think we're at 20. You get really good at changing tires and patching tubes."
"We have had tires blow out," added Jeremy. "We've had to zip-tie tires to keep them from separating completely. We rode on zip ties for 200-300 miles."
When they got to Norfolk, Nebraska, they bought new tires.
The brothers haven't decided how they will get from Washington, D.C. back home to Jackson.
"We've talked about taking Amtrak," said Jeremy.
"They've talked about maybe shooting up to Maine," said their mother, Deb.
"We don't' really know about it," said Jeremy, "but we just would like to hit the whole east coast."
The Ringgenberg brothers chose Denison as their one and only rendezvous point with their parents. Denison is the closest they will travel to their home in Jackson, which, incidentally, was designated as a "MN Bike Friendly Community" in 2018. Jackson is located on Highway 71 and is just south of Interstate 90.
The bothers do, however, call their parents almost every night.
Their parents got a little nervous about their sons traveling on the trail when they heard that a grizzly bear attacked and killed a 65-year-old California woman who was camping in Ovando, Montana, on a long-distance biking trip with two others. That attack occurred on July 6. Their sons had also camped in the same town although before the attack occurred.
"We were glad to see them get out of the Rockies and grizzly country," said Curt Ringgenberg. "Now they just have some black bear country to get through."
What the brothers said the ride has done for them is to make them more extroverted.
"We're pretty introverted people," said Jordan, "but I think on this trip I learned that it's not as bad really to talk to people. We've interacted with more new people in the last month than we ever have."
"It breaks you out of your shell," added Jeremy, "asking locals for advice on camping."
And they have enjoyed meeting a lot of other bikers.
"That's actually been some of the highlights," said Jeremy, "exchanging stories and exchanging Instagrams and keeping up with them on our tour."