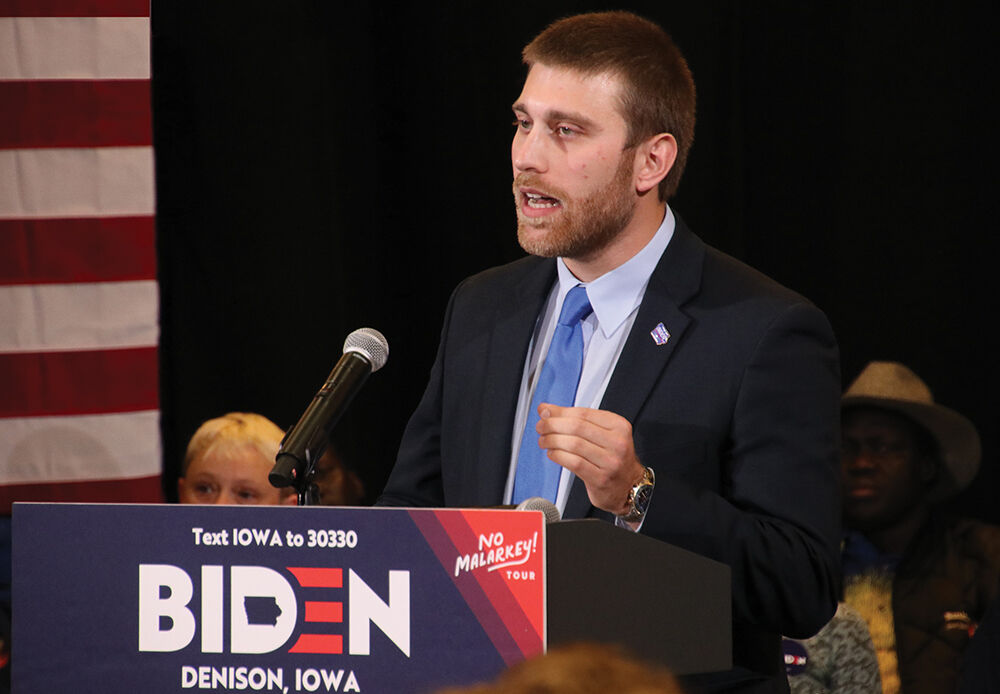 In the spring of 2019, Robert Lyons was finishing up work on his master's degree in public administration at American University in Washington, D.C. and was looking to get back to Iowa.
Lyons is a 2013 Denison High School graduate.
"It was caucus season and Iowa is the center of the world when it comes to that time of the political season," he said. "I really wanted to get involved with a candidate who wasn't just a job but was a candidate I truly believed in and I could give my 125 percent effort to every day."
For Lyons, that candidate was Joe Biden.
"I looked up folks from my personal network and my alumni network that had had some connection to Joe Biden and put in my application in the formal channels and the informal channels."
In June 2019 he landed a job as a field organizer with the Biden campaign in Iowa.
He was one of the first hired by the campaign in the country.
"A field organizer's main responsibilities are finding more volunteers, managing those volunteers and then, for the caucus in particular, you're trying to recruit precinct captains who would be able to speak on behalf of your candidate and run a location for that candidate on caucus night," Lyons said.
Lyons also organized events, from potlucks to visits from the candidate, and maintained the campaign office in Carroll.
"Then you have to find all the furniture and get volunteers to run that office," he said.
Being a field organizer involved a lot of talking on the phone and knocking on doors.
"It's definitely not what you see on TV," Lyons said. "It's a lot of hours, a lot of contacting voters, identifying who they're caucusing for or who they're voting for when you get to the general. And then getting them to come out on caucus night in Iowa."
Organizing for Biden was tough on the ground, especially in rural parts of the state, Lyons said.
"For a while there I was covering about 11 counties and I was spread pretty thin, and I was working in opposition to candidates that had people who were only covering two counties," he said.
Biden took a long time to gain any traction in Iowa, but Lyons didn't lose faith in the candidate.
"I don't think that he ever dropped out of being the favorite to win," he said.
Knocking on doors brought him face to face with people who said they planned to vote for Biden in the general, but didn't plan to go to the caucuses.
"There was a lot of support for Biden but we just couldn't get them to go out to caucus night because a lot of them figured it was in the bag for him," Lyons said. "Obviously caucus night proved that it wasn't quite that way."
Biden placed fourth in Iowa.
The other candidates were younger and had large internet followings - and Biden may not have been quite what Iowa caucus-goers were looking for, Lyons said.
"It could be a little disheartening when people didn't see your candidate the way you saw them, but it was very gratifying down the line as we went to places like South Carolina and Super Tuesday where the greater part of the Democratic Party recognized those same qualities that I did in Joe Biden," he said.
Lyons continued with the campaign through North Carolina, South Carolina and Florida.
By the time Biden became the presumptive nominee, the coronavirus pandemic was overtaking the country.
Lyons worked remotely (from his parents' home in Denison) for the Biden campaign in Wisconsin, Georgia, Oklahoma and Arkansas.
"We were all working virtually, so we had to figure out how to do a virtual campaign at that point," he said.
Lyons used his public relations background to create a five-part series on how to do digital organizing via social media
He provided a list of resources for campaign workers to use and checked in with campaign offices across the country.
In summer 2020, all of the Biden for President Campaign field organizers were transitioned into coordinated campaign staff positions; Lyons worked for the campaign in Ohio through the general election.
Though he had visited Ohio in the past, he did not go there as a member of the campaign staff.
"Not even the Ohio Democratic Party's direct staff was out on the ground doing anything, because of COVID, so it was completely virtual," Lyons said. "It was very strange, to be honest."
Even though Biden didn't win Ohio, Lyons said the campaign's efforts there were worthwhile because the Trump campaign had to divert resources to the state, which helped sway the national election to Biden.
Lyons said the experience was extremely rewarding, but he was exhausted after Election Day.
He missed out on most events with his family and friends during the campaign.
Even while working in Denison, he never felt like he was home because the job took up all of his time.
"But I would never trade the experience," Lyons said. "I made friendships that are going to transcend the campaign - both locally and in other states and on the campaign."
He's proud to have contributed to the largest presidential election win in United States history.
"That, and just trying to put our country on a different path from the path that I felt was the wrong way, means a lot," he said.
He said he believes he grew a lot during his time on the campaign.
"I think if people were to get intimately involved with a campaign like this they would recognize what they think they know about campaign politics is pretty wrong," Lyons said. "It would do everyone some good to get involved with a campaign, even as a volunteer, just to see how the sausage is actually made. I think folks would have a deeper appreciation for what we do and the importance of the work that needs to be done."
He is currently working on reclaiming himself as an individual.
"After a while there all I could talk about was Joe Biden, and now I'm learning to talk about things that aren't Joe Biden again, like the weather," he said.
Over the last weekend he was named as a volunteer state lead for Nebraska and Wisconsin for the Biden Inaugural Committee.
"As a volunteer, I'm helping to coordinate and create service events to assist with COVID-19 relief," he said.
He has put in his name with the transition team for consideration for a job in some capacity in the executive branch.
"That could be anywhere from January through the summer; that's how long those appointments can take," Lyons said.
He doesn't yet know if he will attend the inauguration.
"We had purchased tickets to fly out there and a hotel room many, many months in advance, but we're not sure if we're going to be going because of COVID," he said.
For the present, he is enjoying his time in Denison and volunteering with the Donna Reed Foundation.
"Right now I'm recharging and looking to the future," Lyons said. "I'm hopefully going to get involved with the Biden Administration or with some large-scale nonprofit operation."