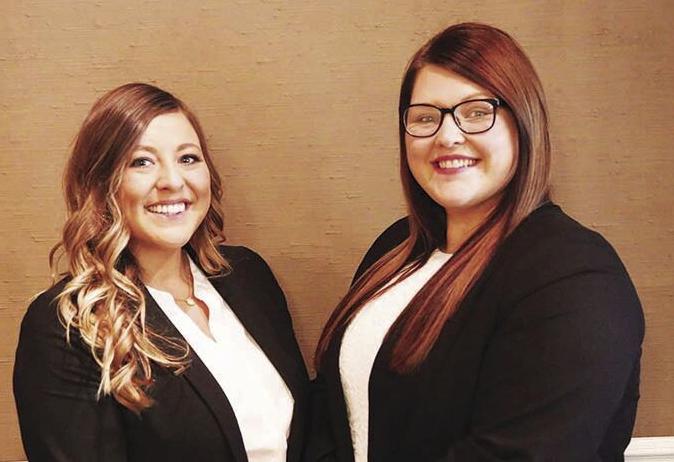 Danielle Sondag and Katie Fitzsimmons, the licensed funeral directors at Huebner Funeral Home, said they are honored to continue on with the level of care established by Walter Huebner and his sons, Butch and Dennis.
Hoy-Kilnoski Funeral Home & Crematory, located in Council Bluffs, took over the ownership of Huebner Funeral Home about four weeks ago. For a number of years, Huebner Funeral Home has had a working relationship with Hoy-Kilnoski and its funeral director, Mike Hoy.
"Dennis and Butch took a lot of time choosing the right person to take over their business when they retired. Their dad ran the funeral home and they grew up in the business. Dennis and Butch knew that Mike would give the same caring service they have given for years," said Sondag.
Fitzsimmons worked as a funeral director at Hoy-Kilnoski in Council Bluffs before transitioning to Huebner Funeral Home. Sondag did a practicum with Mike Hoy four years ago and for the last two and one-half years had been working with Fouts Funeral Home in Woodbine and Dunlap.
Personal experiences with the loss of loved ones and their funerals steered Fitzsimmons and Sondag toward their careers.
Sondag, who is originally from Portsmouth, worked evening visitations and weekend services for a funeral home during high school. While in high school, she joined the Iowa Army National Guard and then enrolled at the University of Nebraska-Omaha, graduating in 2014. While at college, a close friend died.
"It was the first time in my adult life to experience a loss," said Sondag. "That brought me back to consider a career as a funeral director."
Fitzsimmons, who is originally from Guthrie Center, suffered the loss of her fiancé in a car accident in 2013 and she switched her career focus from nursing to becoming a funeral director.
When her fiancé died, she had a difficult time with the experience she had with the funeral home. Fitzsimmons said that's why she knew that changing her course of study to mortuary science was the right direction for her. She wants families to have the funeral experience that she wished she would have had; every person's grief is different but she knows how it feels to be in the family's position.
"It's important that the family have their loved one honored the way they should be," Sondag said. "We're here to help families in a time of sadness to make the decisions they feel are right for them."
"What is important is to give the loved one of the families the care, dignity and respect they deserve," said Fitzsimmons.
An important part of their jobs is to inform families of all aspects of a funeral service so the decision-making is easier for them.
Sondag added that Huebner Funeral Home offers options for prearrangements that can help families.
"Deciding on funeral arrangements for a parent is not easy," she continued. "A prearrangement makes it easier on the children and spouses. Some families are surprised that a parent had prearranged the funeral services because it is something their parent never talked about. Some have even made a prearrangement to pay for the funeral."
"Prearrangements take a big weight off the shoulders of a family," Fitzsimmons added.
"For spouses and children, it takes the worry out of wondering if they are making the right decisions for their loved one, and it allows them to spend more time grieving with their family members," she continued.
Fitzsimmons and Sondag have been busy learning about the community and following the example of community involvement set by Dennis and Butch Huebner.
"I'm very excited to be a funeral director at Huebner's and plan to be part of the community," said Sondag. "I will be moving into the apartment above the funeral home and want to be involved in all the community events."
She and Fitzsimmons said it is important to them to build relationships with families that continue beyond the funeral service and that people who see them out in the community can feel free to greet them as friends."
"We want families to know that they can expect the very same level of care and concern they have received from Dennis and Butch," said Fitzsimmons.
A meet and greet for Fitzsimmons and Sondag will take place at Huebner Funeral Home in Denison from 4-7 p.m. on Monday, October 26. Hors d'oeuvres and beverages will be served. Everybody is welcome, even if they have already met Fitzsimmons and Sondag.
They said they look forward to meeting people and to answering any questions people may have.